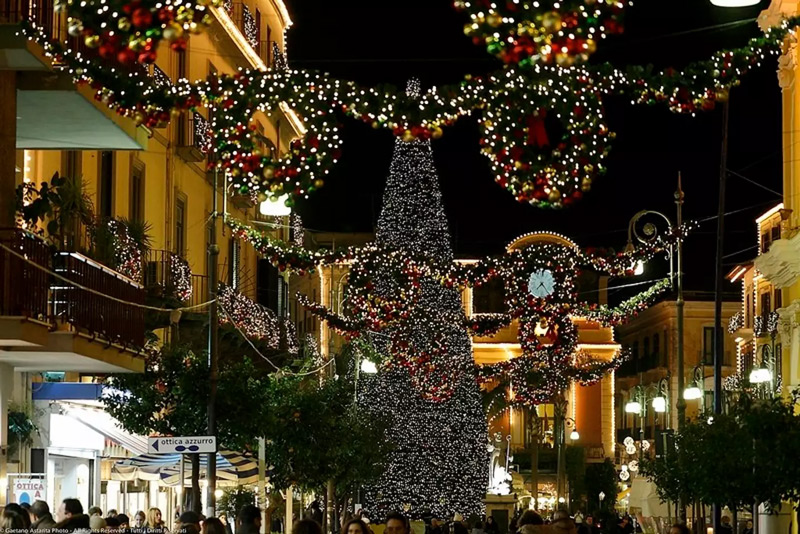 (December)
Sorrento Christmas lights will be turned on from 23 November and the lights on the magnificent Christmas tree in the main square, Piazza Tasso, on 1 December. Remember that on the start of each hour the Christmas tree displays a light show of its own.
The Christmas holiday spirit is lifted with events and concerts taking place every weekend throughout December including and street artists and buskers.
Other venues not be missed are the Walt Disney Village featuring illuminated famous characters in the Piazza Sant'Antonino and in Piazza Lauro you will discover a Snow Village including penguins and polar bears. Traditional Nativity scenes can be admired in Villa Fiorentino together with Santa's Village. Add to this all the decorations throughout the narrow streets and the shops and your Christmas atmosphere will be complete.

Talking of Christmas shops …. Friends of Sorrento offers a perfect opportunity for couples or a group of friends to make Christmas shopping a present in itself. Your driver will offer seasonal greetings on arrival and take you in a very comfortable car to the hotel where a Friends of Sorrento Christmas present awaits. Carefully selected hotels minutes from the main square's infamous Christmas tree with an itinerary tailored to provide a seasonal mix of culture, tradition and Italian style shopping will make this a truly memorable visit.