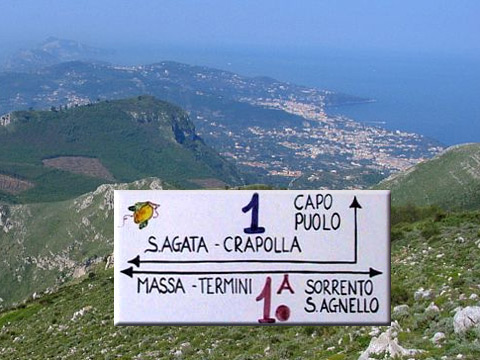 Walking
Sorrento and the Amalfi coast offer a wide choice of walks to suit all ages and mobility. Sorrento, Positano, Amalfi and the other main towns provide a warren of streets to explore by foot with plenty of opportunities to stop and relax. Pompeii and Herculaneum also present more than an just a quick stroll. The islands of Capri and Ischia provide walks of all descriptions and the public transport can be used to circumvent the more difficult terrain.
There are many leisurely walks in the countryside around Massa Lubrense and these offer a chance to visit the many villages and harbours in the area such as Pantano, Termini, Nerano, Marina del Cantone and Sant' Agata. The majority of these 'walking trails' are well marked and linked by a regular 'blue' bus service from Sorrento.
Many of the coastal villages are within the protected marine area "Punta Campanella", which extends from Piano di Sorrento to the North of the Peninsula to Positano in the South. The main aim being to protect the natural, scenic and historical aspects of this area and safeguard its traditional economic activities. Ancient mule tracks, vineyards, lemon, olive and chestnut groves, fishing villages, crystal clear coves are all waiting to be enjoyed.
Route maps, and guided walks, are available from a number of sources. The local tourist office (located in the Entrance to the Foreigner's Club) provides free maps for 'Sorrento Country Walks' and 'Massa Lubrense'. Also recommended is the publication 'Sorrento, Amalfi and Capri Tours. Car Tours and Walks' by Julian Tippett which provides an excellent choice and description of walks.
Another source of local information and guidance, is Giovanni Visetti who is a professional walking guide and cartographer with unrivalled knowledge of this area. He has produced a series of detailed maps showing Massa Lubrense walks and for experienced walkers he organises escorted walks on the more challenging trails (Paths of the Gods) in the Lattari mountains overlooking the Amalfi coast.
Further afield, but still accessible from Sorrento, are a number of protected environments and natural parks with walking trails.
National Parks
Vesuvius National Park, in addition to the climb to the rim of the volcano, offers 15 tracks or trails through fertile landscapes.
Regional Nature Parks
Campi Flegri Regional Nature Park. West of Naples.
Fiume Sarno Regional Nature Park. River Sarno, South of Vesuvius
Monti Lattari Regional Natural Park. Amalfi coast
State Nature Reserves
Trione-Alto Vesuvio. East of Vesuvius
Cratere degli Astroni. West of Naples
Valle delle Ferriere. Amalfi coast
Isola di Vivara. West of Naples
Nature Parks
Diecimare Nature Park. East of Ravello
Parco Metropolitano delle Colline di Napoli. Naples
Walking guides and maps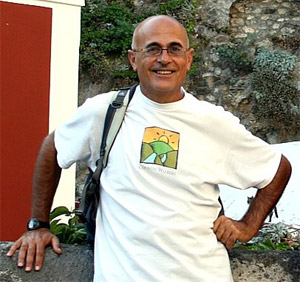 Guided Walks with Giovanni Visetti
For more detailed information about walking in Sorrento and Amalfi, from gentle leisurely walks through olive groves to more ambitious mountain trails, we recommend a visit to the comprehensive website of Giovanni Visetti.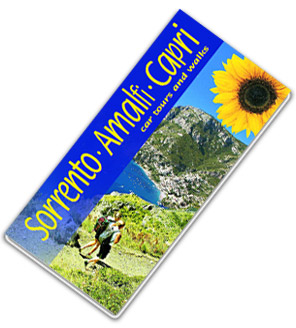 Guide Books
Sorrento, Amalfi and Capri Tours, Car Tours and Walks by Julian Tippett. An excellent guide book for any visitor who would like to explore the countryside around Sorrento.
More information