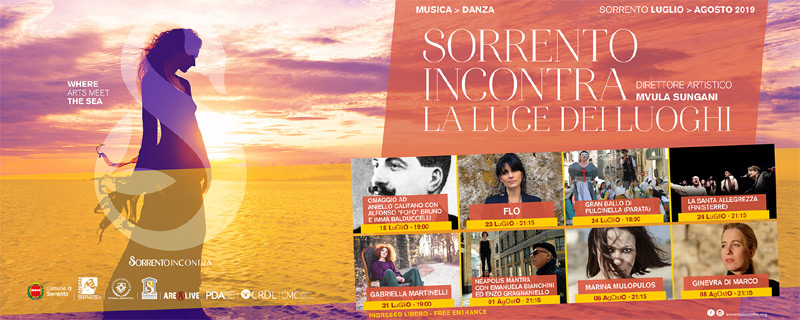 (18 July to 8 August)
Sorrento Incontra – La luce dei Luoghi (The Light of Places) is a festival of music, dance, art and tradition performed on the terrace of the Villa Comunale named after Salve D'Esposito, another great Sorrentine author of pieces found in the repertoire of the great Neapolitan songs.
The calendar includes the voices of Flo, Gabriella Martinelli, Marina Mulopulos and Ginevra De Marco, the dance of Emanuela Bianchini, the rhythms of a Mediterranean storyteller like Enzo Gragnaniello, then the Gran Ballo di Pulcinella and La Santa Allegrezza, and, above all, the tribute of Alfonso Bruno and Imma Balduccelli to the poetry of the Aniello Califano from Sorrento, whose 100 years have passed since his death this year.
PROGRAMME: Free admission
July 18 at 7.00 pm
Tribute to Aniello Califano with the participation of guitarist Alfonso Fofò Bruno accompanied by the voice of Imma Balduccelli.
July 23 at 9.15 pm
Flo, theater singer-songwriter and actress, one of the most interesting and versatile personalities in world music.
July 24 at 6.30 pm
Gran Ballo di Pulcinella, a parade of masks, tammorre, dances and ancient rhythms of the popular tradition of Campania.
July 24 at 9.15 pm
The Holy Allegrezza, a show by Gianni Aversano and the Damadakà group , focused on the repertoire of religious traditions of the South.
July 31 at 7.00 pm
"The belly is a brain with a hole" is instead the title of the album that gives the title to the concert by Gabriella Martinelli who will sing stories, with irony and with her important voice that tells the places, the sounds and the colors that formed his artistic growth.
August 1 at 9.15 pm
Neapolis Mantra, a multidisciplinary work by the Teatro Comunale Tasso Production Center, conceived by the Italian-African director and choreographer Mvula Sungani, who sees the strength of physical dance together, with the participation by the ethico Emanuela Bianchini, Enzo Gragnaniello and the strength of his black voice, with fragments of poetic prose by other authors. A show of interaction and interpenetration.
August 6 at 9.15 pm
Marina Mulopulos, the Italian-Greek singer who for many years has been working experimentally on the voice as an instrument.
August 8, at 9.15 pm
Ginevra De Marco, one of the most popular exponents of the new folk Italian.