We are often asked to recommend restaurants, particularly by first time visitors who have not yet had time to explore the many available. For this reason we selected some of those we use ourselves and where you can be sure of receiving a very warm welcome.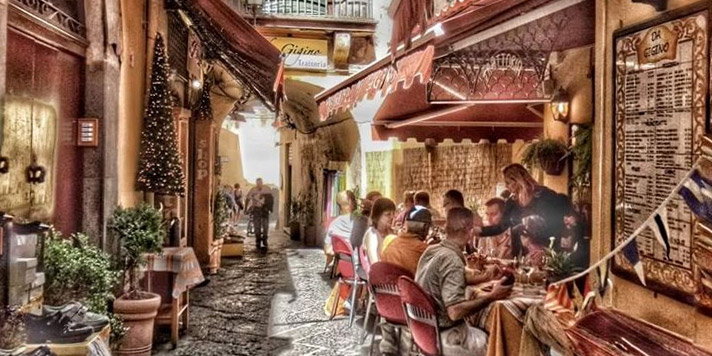 Ristorante da Gigino
15 Via degli Archi, Sorrento
tel: 081 8781927
www.dagigino.com
We have eaten at the Ristorante da Gigino on a number of occasions and it provides an ideal choice for first time visitors. It presents a wide range of meals from pizza and chips to traditional regional dishes using local produce. The staff will be pleased to explain the menu or prepare dishes to satisfy the individual tastes of guests, regardless of age. It is popular with visitors and locals and has a very friendly and informal atmosphere. Located in a quiet lane in the heart of Sorrento's historical centre and away from the main tourist thoroughfare it provides a relaxing introduction to the quality and range of food you can expect.
---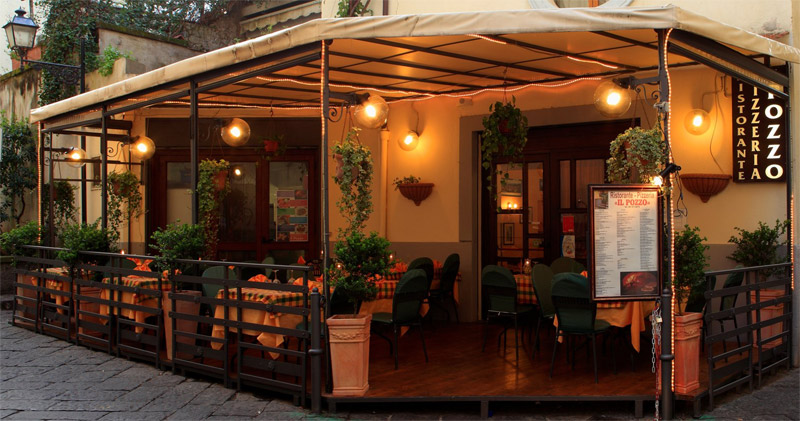 Ristorante Il Pozzo
32 Via Tasso, Sorrento
tel: 081 8774876
Facebook
Ristorante Il Pozzo is another of our favourite eating places found in the quieter narrow lanes of the historic centre. An excellent selection of traditional dishes is served and the staff always find the time to explain each dish on the menu and, if required, to advise a suitable wine. During our visit the house red was especially good value.
The tables are laid out in a manner that offers enough space for family groups or couples seeking a little more privacy. First time visitors will quickly feel at home and be given plenty of time to choose something familiar or typically Sorrentine.
---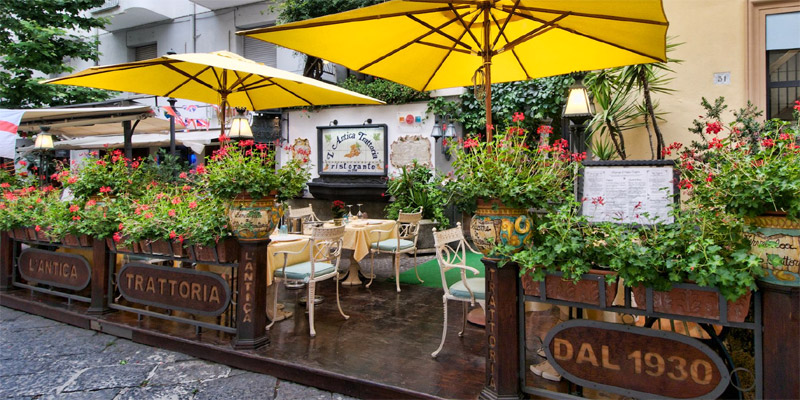 L'Antica Trattoria
33 Via P P Giuliani, Sorrento
tel: 081 8071082
www.lanticatrattoria.com
We celebrated a special occasion at L'Antica Trattoria (est 1930) which offered a choice of places to eat, each with a different décor and ambience and perfect for a quiet and private evening. The food and service were both excellent as was the house wine. Smart casual dress seemed entirely appropriate for the evening.
Located in the heart of Sorrento's historical centre, you can sample the true flavours of Sorrento under a lush pergola or in one of the elegant and intimate inner rooms.
---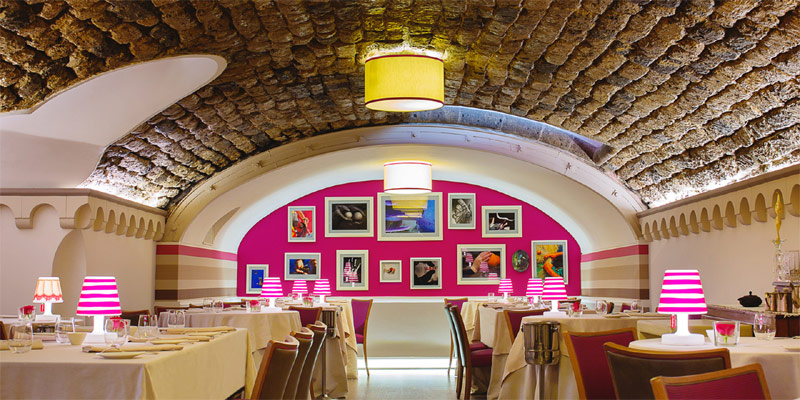 Il Buco
2a rampa Marina Piccola, 5(Piazza Sant'Antonino), Sorrento
tel: 081 8782354
www.ilbucoristorante.it
This elegant Michelin rated restaurant is located in the heart of Sorrento's historic centre in the wine cellars of an old monastery.
As you would expect from such a recognised establishment the cuisine is prepared and served with a passion and pride. For visitors seeking a truly culinary experience based on traditional recipes and in a beautiful setting then Il Buco and chef Giuseppe Aversa will more than satisfy.
Please note: Booking enquiries are only accepted by email or in person.
---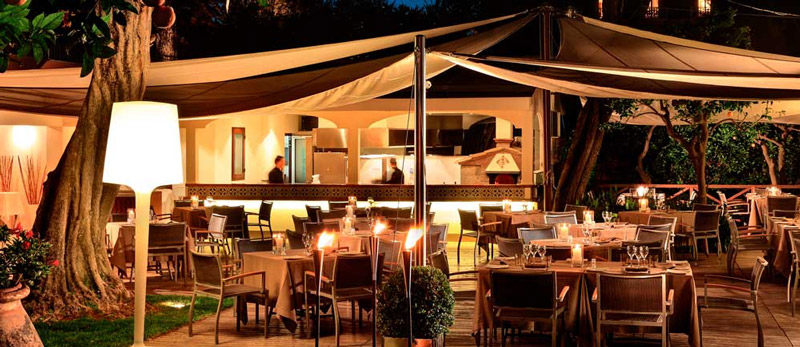 L'Orangerie
Grand Hotel Excelsior Vittoria
Piazza Tasso
081 8777868
Perhaps it's a special occasion or the last night of the vacation and you would like somewhere very special to wine and dine … Read more.
---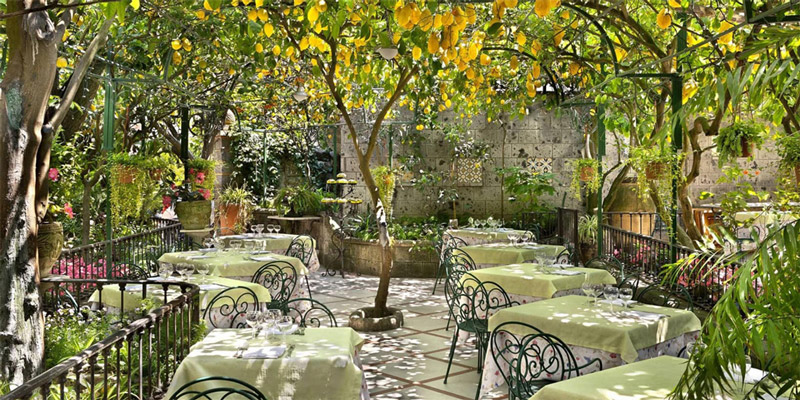 Ristorante 'O Parrucchiano
71 Corso Italia, Sorrento
tel: 081 8781321
www.parrucchiano.com
Entering the Ristorante 'O Parrucchiano from the main road is an experience in itself, with steps leading up to a magical garden environment full of different seating arrangements, each with its own character. We visited in the evening when the candle lights made it even more enchanting.
The menu offers a wonderful selection of traditional cuisine and the basket of fresh breads was a clear indication of good things to follow and we were not disappointed. It was founded in 1868 and they have a leaflet which tells its fascinating history. To finish the evening try their own limoncello !
---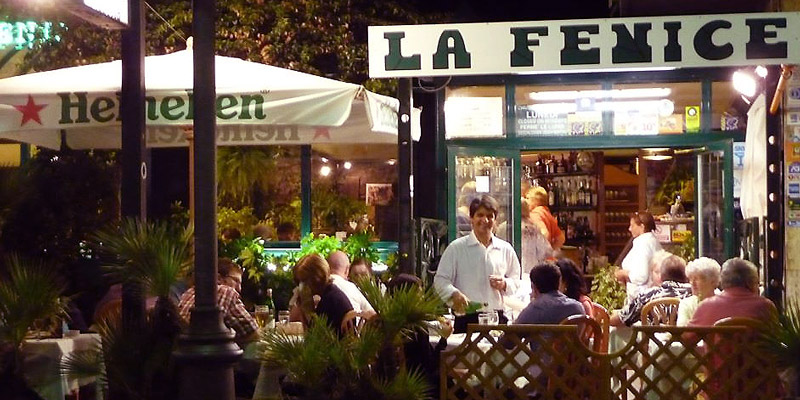 La Fenice
11 Via delghi Aranci, Sorrento
tel: 081 8781652
www.ristorantelafenice.com
In May 2014 we had another opportunity to eat at La Fenice and the choice and service was as good as ever. The setting is informal and cool with a range of dishes that will satisfy all tastes, particularly fresh sea food from the Marina Grande harbour only five minutes walk away.
We shared a starter of grilled vegetables and our main course was pasta with fresh prawns and a glass of house white completed another very pleasant light lunch.
---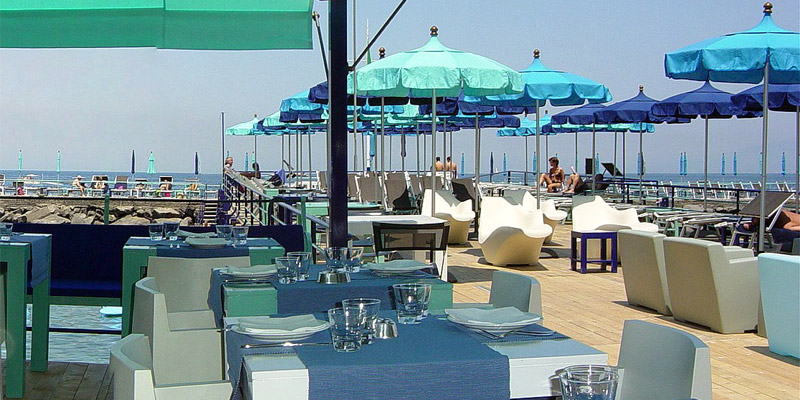 Marameo Beach
Spiaggia San Francesco, Sorrento
tel: 081 8783381
www.marameobeach.com
Marameo beach, restaurant and lounge bar provides a very comfortable and convenient location for those who like to relax right next to the sea. Visitors can take the Sorrento lift from the Villa Communale down to the sea shore and Marameo's entrance.
It has all the facilities you require for sunbathing, swimming and refreshments including an excellent restaurant and superb views of Vesuvius and the coastline. There is a pleasant, stylish and sophisticated feel about the place which is captured on their website.
---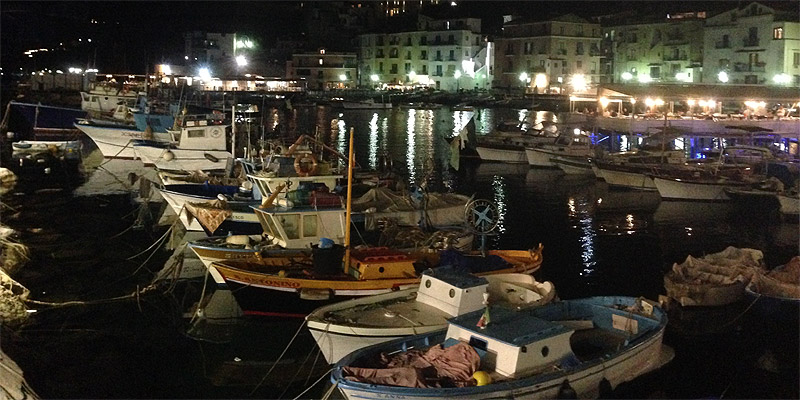 Restaurant Bagni Delfino
Marina Grande, Sorrento
tel: 081 878 2038
Facebook
This is the view we had from our table across the Marina Grande fishing harbour with the hotels rising up behind it. On the opposite side was a view of the distant twinkling lights of Naples skirting the silhouette of Vesuvius.
The atmosphere and setting were perfect as was the meal. Nothing more to add except it is advisable to book in advance if you would like a table outside.