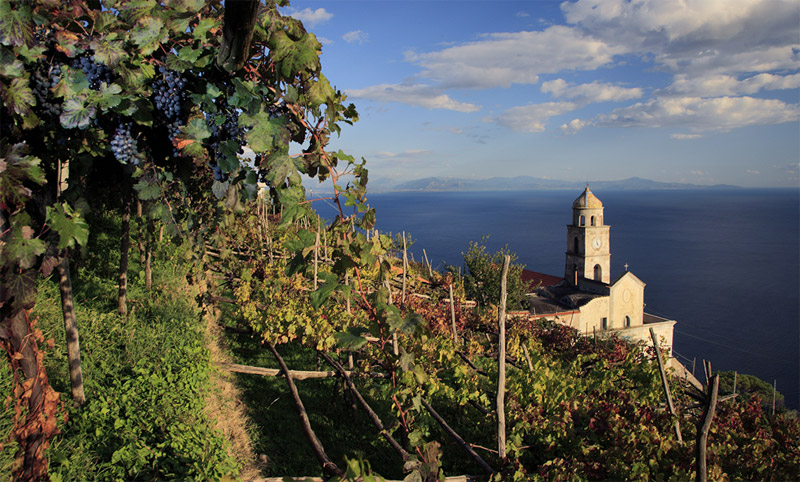 Having seen the name Marisa Cuomo on a number of wine menus we organised a private tour to the winery in Furore. It's located 45 minutes from Positano and 500 m above the Amalfi coastal road. This wine tour was to prove stimulating not just for our taste buds but for all the senses.
After turning off the coastal road we began the winding ascent to Furore with each bend offering picture postcard scenes of the coastline far below and mountains high above. Having been used to seeing rows of vines on a rolling landscape it was hard to see where the vineyards could possibly lie in such a vertical environment.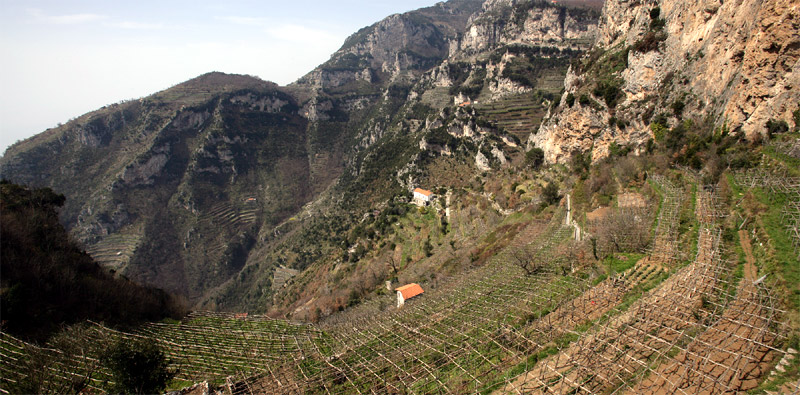 However, following a warm welcome at the winery everything became clear as the Marisa Cuomo story unfolded during the introduction and visits to the cellars, hand-cut into the rock, and the steep, almost hidden, terraces. The main cultivation system is the 'pergola' with vines often planted on vertical rock faces with manual labour and donkeys still carrying the burden. Some of the wines are classed as Extreme and Heroic because of the challenging conditions.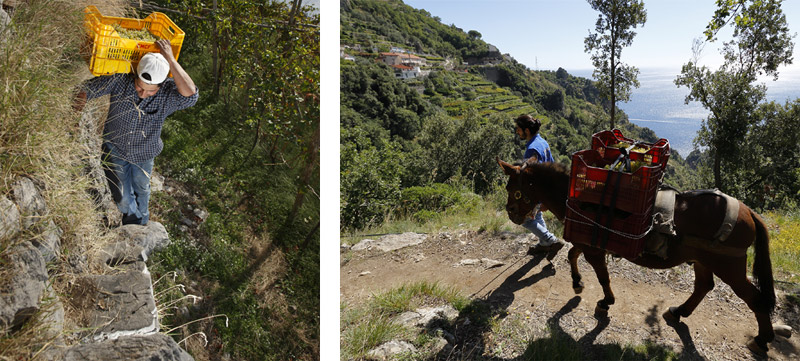 Bruna was our guide and her description sounded more like a novel than a tour. A story of romance, dramatic landscapes, physical struggles and passion to produce beautiful wines. In 1983 the vineyard was a wedding gift from Andrea Ferraioli to Marisa and like true love, flourished over the years. Their determination, together with generations of experience and physical toil has resulted in a cellar with a world wide reputation.

In addition to vineyards in Furore, they have others located along the Amalfi coast. Ancient vines producing unique tastes influenced by the earth in which they grow and the mountain air they absorb. Tronto, Tintore, Sciascinoso, Ripolo, Pepella, Ginestra, Piedirosso, and Fenile are the grape varieties blended to create nine Marisa Cuomo wines listed below.
Furore Bianco, Furore Rosso.
Ravello Bianco, Ravello Rosso.
Furore Bianco Fiorduva, Furore Rosso Riserva.
Costa d'Amalfi Rosso, Costa d'Amalfi Rosato, Costa d'Amalfi Bianco.
Marisa Cuomo wines are available in the UK and stockists found with Google search
Tastings took place at the Ristorante Bacco, located opposite the winery with a table for two on a terrace open to spectacular views of the mountains and coastline. There was a choice of menus each with a selection of three wines to complement the dishes and ours included the award-winning Furore Bianco Fiorduva.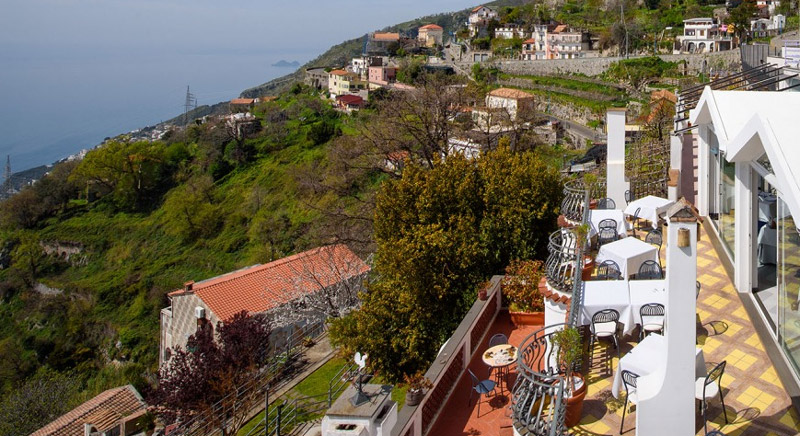 How the different landscapes and soils influenced the intricacies of each wine were explained to us as the dishes were served; citrus from lemon groves, minerals in more rocky ground and much more. It was an exceptional meal with superb wines in a truly wonderful setting followed by a relaxing drive back to Sorrento.
Whenever we open wine from Marisa Cuomo it is not only the flavours that rekindle memories of our visit but also the label. Each wine has its own illustration as if taken from a storybook, but a story based on real people and real places. Whether you are a wine connoisseur or a romantic you should find this tale of passion and fortitude in a beautiful but unforgiving landscape fascinating.
Based on our experience Friends of Sorrento provides a private tour to Marisa Cuomo including time to visit Positano. See itinerary

Full details about the Marisa Cuomo winery and their wines can be found at their website together with a selection of videos. Here's a little taster.
Marisa Cuomo
Via G.B. Lama, 16/18
Furore
Website