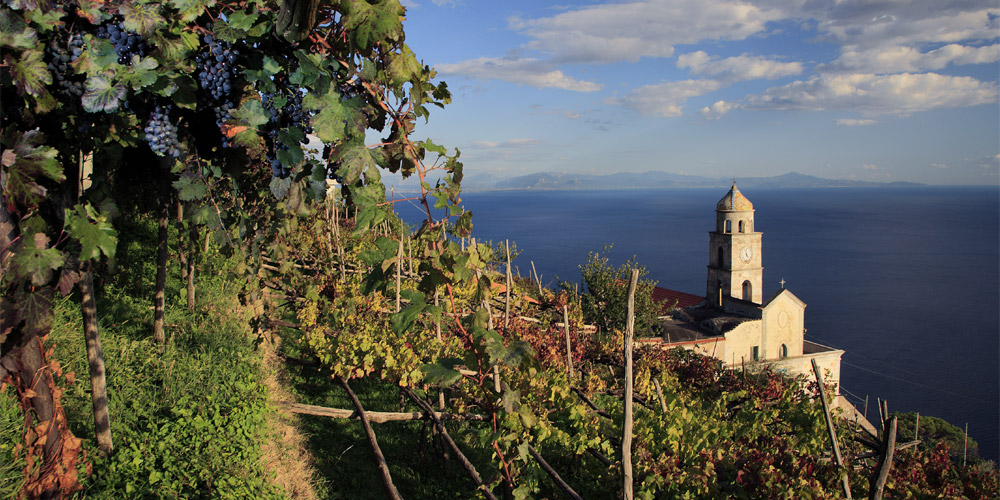 Wines of Campania
This tailor-made 8 day Wine themed holiday offers an exclusive opportunity to visit wineries in the Campania region to taste some of its most famous wines. From Sorrento you will experience vines on the slopes of Vesuvius, inland towards Avellino and the Apennine mountains and on terraces perched high above the Amalfi coast, each location as unique as the wines themselves.
---
What's included
4/5* Hotel
Private transfers from Naples airport
Wine tour and tastings at vineyard near Vesuvius
Wine tour and tastings with 3 course lunch at vineyard in Avellino
Wine tour and tastings with 3 course lunch at vineyard on Amalfi coast
Tour of Pompeii
Tour of Naples
Tour of Positano
Optional tours and activities, see list below
Breakfasts, 2 three course lunches
Friends of Sorrento support before and during visit
Availability
May, June, Sept and Oct 2024
Price on request based on two people sharing a double room
Group size: Minimum 4. For larger groups please get in touch.
---
Day One
Welcomed at Naples airport where your driver will be waiting to take you to the hotel. Sit back and enjoy beautiful views across the Bay of Naples as you drive through Castellammare di Stabia, Vico Equense, Meta, Piano di Sorrento and Sant'Agnello'
Evening: Free time.
---
Day Two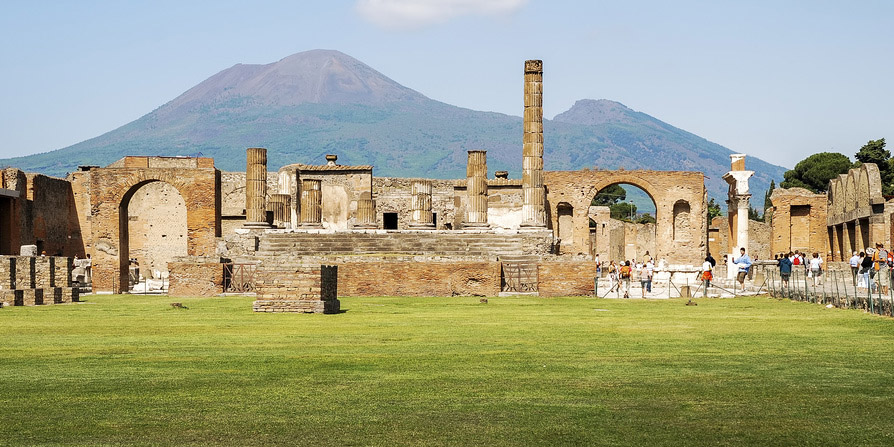 We start with a guided tour of the remarkable archaeological site of Pompeii. It seems a contradiction that the destructive forces released by Vesuvius not only destroyed and preserved Pompeii but also created a very fertile soil which has helped produce beautiful fruit, vegetables and wine. After the walking tour, we will visit a vineyard for wine tasting and a light lunch with typical local produce.
Evening: Free time to explore Sorrento.
---
Day Three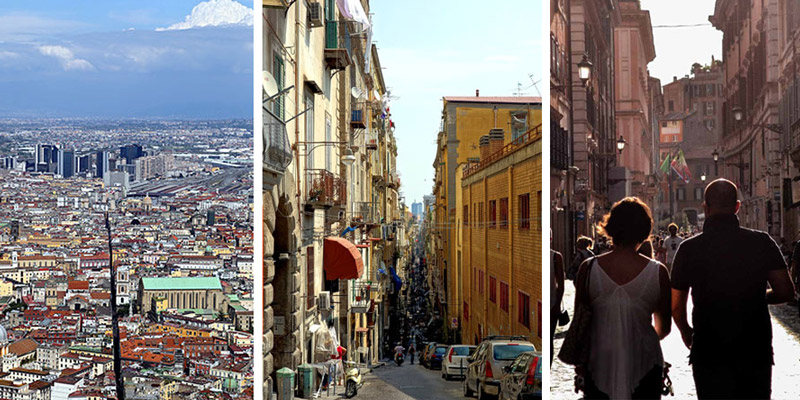 A guided tour of Naples to experience the fabric and daily life of this exciting and vibrant city. Start with a visit to the Archaeological Museum before meeting your guide for a walk through the streets of Napoli to experience 'daily life' and a chance to see the incredible architecture and sculptures. There will be opportunities to taste authentic Neapolitan pizza, visit other landmarks and take coffee at the famous Gran Caffè Gambrinus.
The photographs show the Spaccanapoli (Literal meaning: Naples splitter) which is the straight and narrow main street that traverses the old, historic centre of the city.
Evening: Free time.
---
Day Four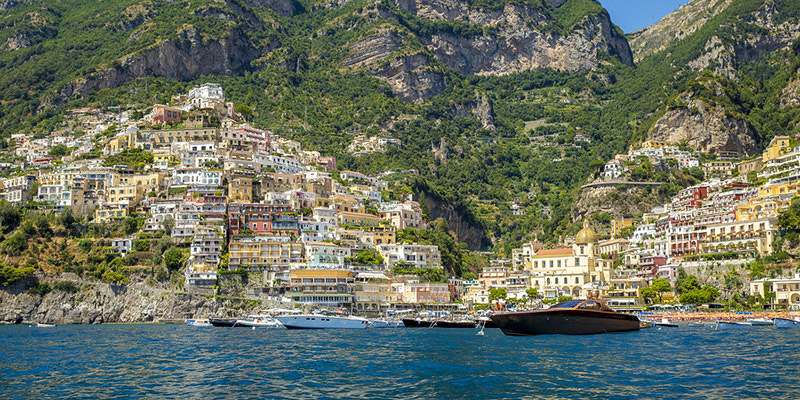 After a relaxing full breakfast the day begins with a morning visit to 'picture postcard' Positano to explore its web of narrow streets with exclusive boutiques and galleries all leading down to the beach. From this level you will really appreciate the beauty of this unique location and enjoy a cappuccino before returning to the coach.
Sit back and enjoy the views as you wind your way up to Furore for a private tour of a unique winery with grapes taken from terraced vineyards along the Amalfi coast. The terraces are too steep to venture far but you will be intrigued by the story behind this winery with its romance, a constant struggle against the elements and the delicate balance between man and nature to produce wines so beautiful. Often referred to as 'extreme or heroic wines'.
Read our review of a recent visit.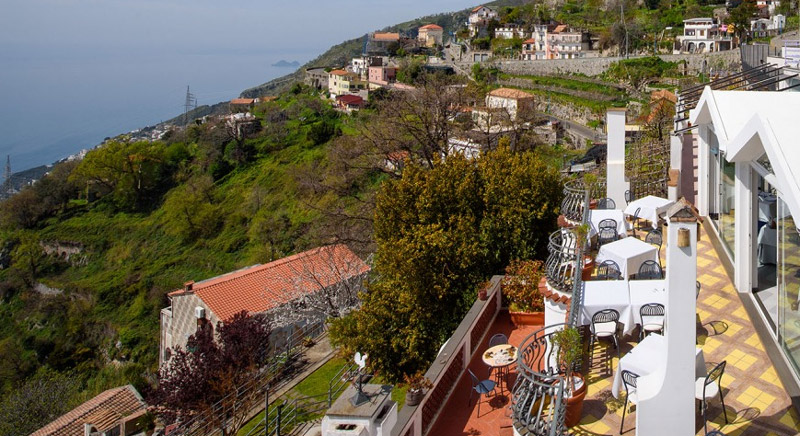 After visiting the cellars you stroll across to the restaurant for a superb three course meal with wine pairings. The intricacies of each wine and how the surrounding landscape influences their taste will be explained in detail and questions willingly answered. All this taking place with the sky, sea and mountains of the Amalfi coast as a background.
Evening: Free time.
---
Day Five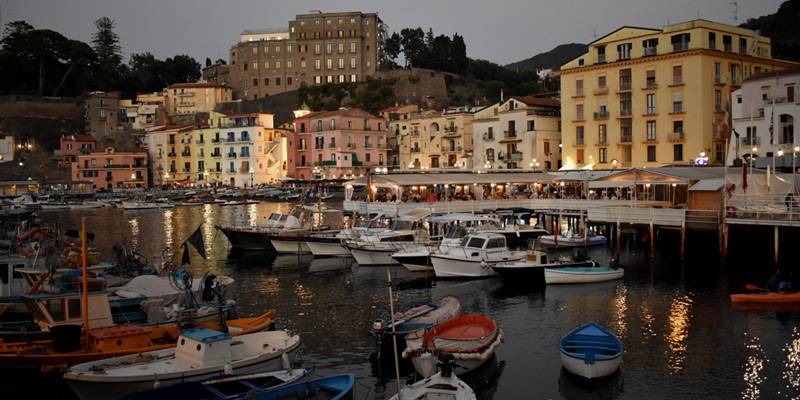 A free day to explore the maze of narrow lanes in Sorrento with its myriad of shops and historic buildings. The fishing harbour in Marina Grande provides a perfect end to a pleasant stroll from the town centre and offers a wonderful choice of restaurants along the small beach and promenade. It's a superb location for an alfresco lunch or dinner.
Evening: Free time.
---
Day Six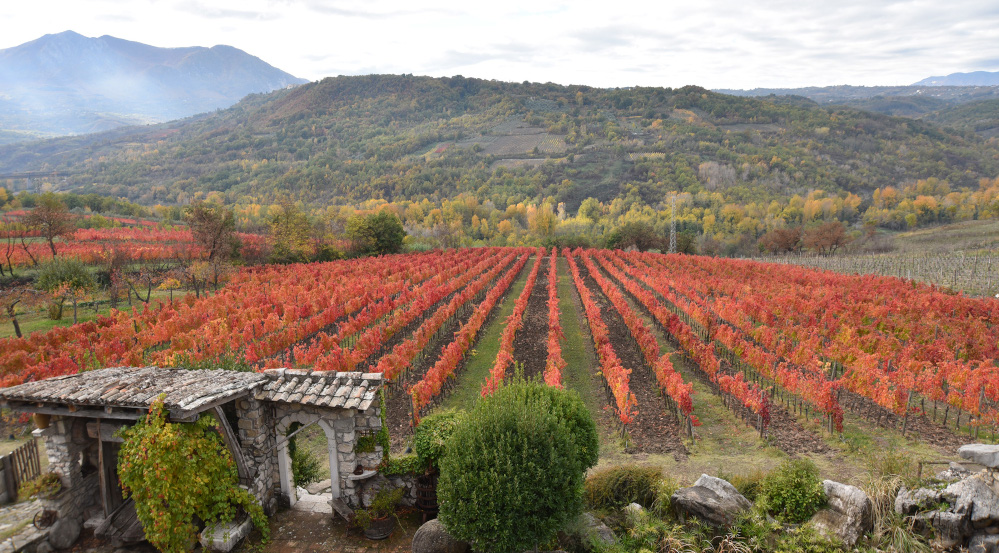 A visit to a vineyard in the Avellino wine region that has helped Campania to be recognised the world over for its wine varieties and quality. A three course lunch with wine pairings will follow a private tour of the vineyard and cellars.
Evening: Free time.
---
Day Seven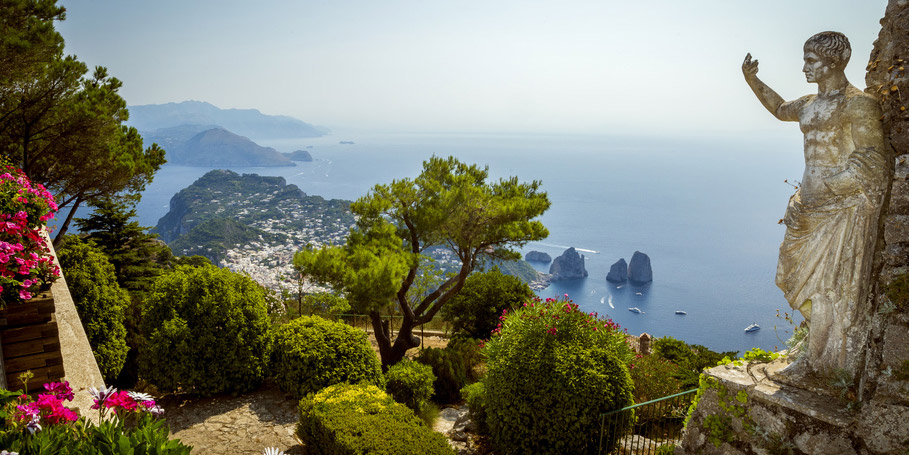 A day for doing your own thing and to take a walk to Piano di Sorrento or a 10 minute bus ride to Vico Equense and Meta di Sorrento, each with their own attractions. Take a bus in the opposite direction to some of the villages on the Peninsular, including Sant'Agata and Masa Lubrense, and enjoy local cuisine in one of the many trattorias with views of the Neapolitan Riviera. The Sorrento office will provide all the information needed.
We could organise one of our optional tours and activities including a mini cruise to Capri or along the Amalfi coast, take a half day visit to Herculaneum or learn the secrets of making the perfect pasta, see the list below.
Evening: Free time.
---
Day Eight
In seven days you would have tasted some of the best wines and cuisine in the region, visited Pompeii, Positano and Naples. It's time to relax and just enjoy the moment before your private transfer to the airport.
---
Hotels
Here is a small selection of hotels available including traditional, contemporary or smaller boutique style depending on your preference for character, views and location. Details and images of these and other hotels can be seen on our featured hotels page.
Subject to availability at time of booking.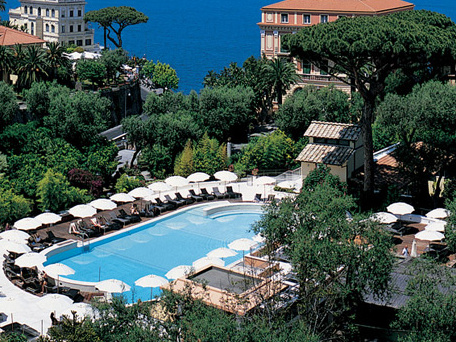 5* Excelsior Vittoria
An oasis of luxury in the heart of Sorrento with superb views across Bay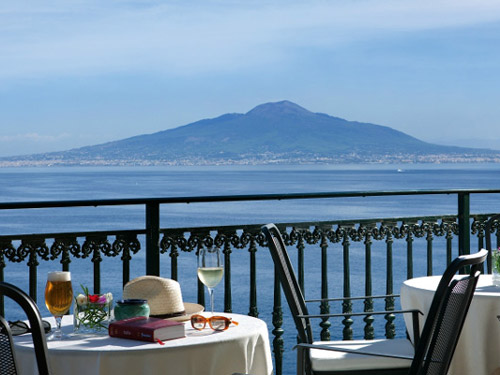 4* Tramontano
Central, cliff edge location, superb views across Bay of Naples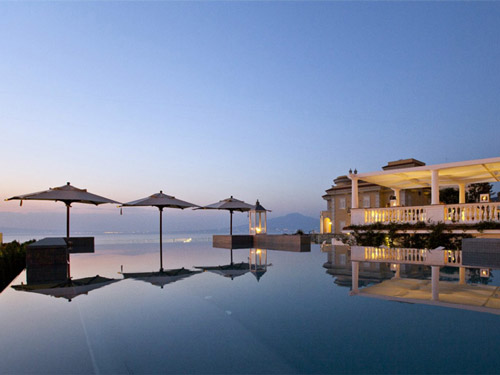 4* Corallo
Located in Sant'Agnello with panoramic terraces and views.
---
Optional tours and activities
Half day guided tour of Herculaneum
Paestum and the Greek temples
Guided tour of the island of Ischia and the magical Mortella Gardens
Guided tour of Capri
Cruise along the Amalfi coast or around Capri
Sunset cruise with cocktails
Cooking class
---
Further details
To express an interest in this tour, please use the form below or phone: +44 (0)1446 771220.