Choosing your hotel
Here is a selection of exclusive hotels to illustrate the range of styles available together with our own notes in terms of character, views and location.
Excelsior Vittoria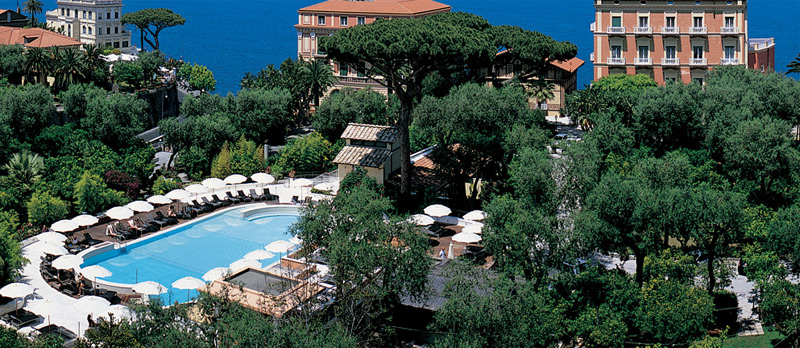 The majestic five star Excelsior Vittoria commands an imposing location on the cliff edge overlooking the harbour and Bay of Naples. Careful restoration and conservation has retained an atmosphere of period elegance and grandeur throughout, including the refurbished swimming pool and new 'Holistics Centre'. Gardens with lemon groves create an oasis of calm just an olive stone's throw away from Sorrento's main square. Ideal for anyone wishing to capture the atmosphere of the Grand Tour era. For more information on the Excelsior please read our review.

---
Bellevue Syrene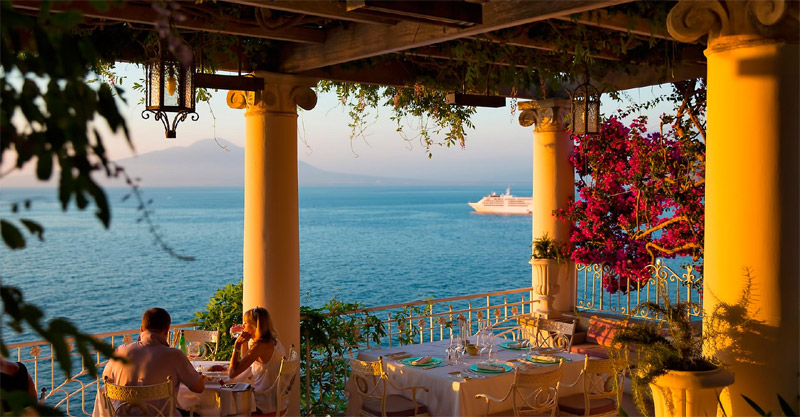 A five-star hotel perched on the cliffs overlooking the Gulf of Naples and Vesuvius. Careful and respectful renovation has maintained its many traditional Roman features whilst offering modern amenities to guests throughout the year. Centrally located with Sorrento centre and the picturesque fishing harbour of Marina Grande just minutes away. Access to its private beach and bathing facilities is provided by lift.

---
Cocumella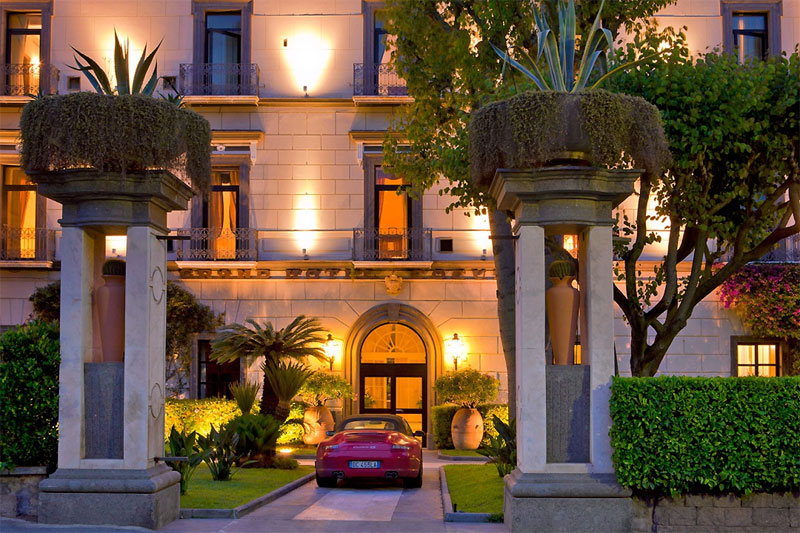 A truly classical five star hotel with all the comforts you would expect. Beautiful gardens, terraces and swimming pool overlook the Bay of Naples with tennis courts and private bathing platform. Superb yacht available for hire. Located about 20 minutes walk from centre of Sorrento and 10 minutes from the railway and bus stations.

---
La Favorita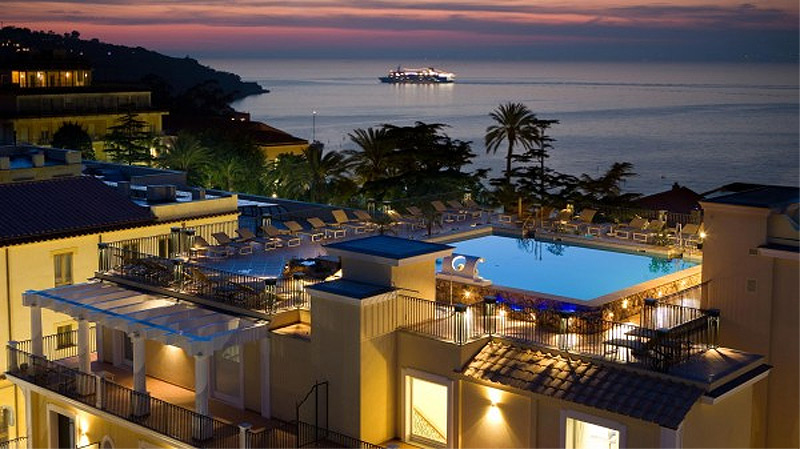 The Grand Hotel La Favorita is a new five star hotel, situated in the heart of Sorrento's historical quarter and decorated in a neo classic style with touches of modern. The rooftop pool and terrace provide views over Sorrento and the Bay of Naples. There is no restaurant in the hotel but guests can use the restaurant O' Parrucchiano which is owned by the hotel and located about 250 metres away.

---
Tramontano
The four star Tramontano is located on the edge of the cliff with panoramic views of the Bay of Naples. The centre of Sorrento and the picturesque harbour of Marina Crande are just minutes away. The wonderful gardens shelter an excellent swimming pool and peaceful terraces.

For more information on the fascinating history of the Tramontano, including the private chapel and a Roman tunnel that goes down to the beach, please read our article from 2008: 'A Poet, a Composer and a Chef'.

---
Mediterraneo
The four star Mediterraneo is located just a few metres from the cliff edge with panoramic views of Sorrento's coastline and across the bay towards Vesuvius. The facade hides a surprisingly spacious area with a good size pool, garden area and plenty of quiet spots for private relaxation. An internal lift takes you down to the private beach and bathing platform. Situated about 15 minutes walk from Sorrento's centre (free shuttle bus service available) and 10 minutes from the bus and railway station, it offers easy access to the all amenities as well as Sant'Agnello's own attractive centre. Guests may also wish to take advantage of the Mediterraneo's boat charter service for a range of private cruises.

---
Plaza
This four star boutique hotel is located in a quiet corner overlooking the 'Valley of the Mills' just steps away from Sorrento's main square Piazza Tasso in the heart of Sorrento and provides a roof top infinity pool and sky bar from which you can enjoy the wonderful views of Sorrento, Bay of Naples and Vesuvius, day and night. Recently refurbished, the Plaza provides a contemporary modern atmosphere with traditional levels of personal service.

---
Relais Blu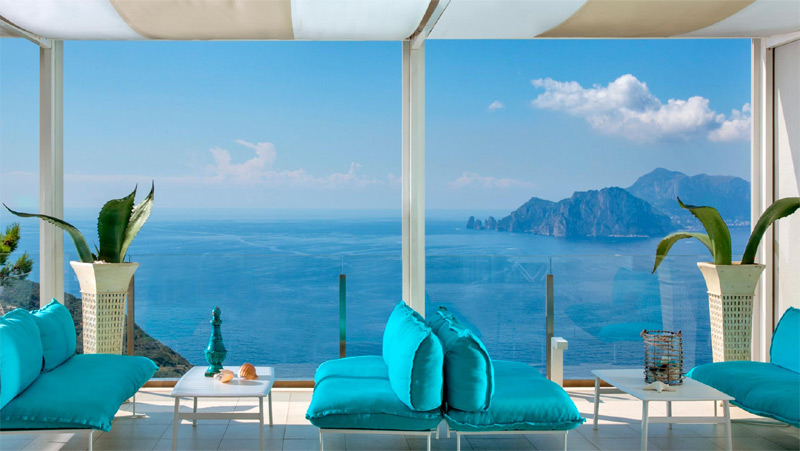 Relais Blu is a 4 star Boutique hotel, or perhaps a more accurate description would be a luxury villa with 11 bedrooms furnished in a distinctly Mediterranean style, each with a balcony and sea view. Located in the Massa Lubrense area, a short drive or bus ride from Sorrento, it is set in the 'countryside' with beautiful views of the coast and islands and amazing sunsets. Contemporary Italian and international cuisine is served in its restaurant.

---
Palazzo Jannuzzi
Situated in the heart of historic Sorrento, in the piazza Tasso, the recently refurbished Palazzo Jannuzzi offers a limited number of very stylish rooms. Double glazing allows the wonderful atmosphere of the Tasso square to continue without disturbing your peace. It offers modern facilities in all of the rooms and has a wonderfully refreshing breakfast room serving home made delicacies and fresh coffee. Half board is not available but guests have a splendid choice of traditional and international cuisine literally outside their door. More information

---
Maison Tofani Relais
Hidden in the narrow lanes of historic Sorrento this lovingly restored building captures the imagination and heart of any guest. The attention to detail is remarkable not only in the structure but also in the furnishings and decorations. As you walk through the ornate double doors into the main hall your eyes are immediately drawn to the magnificent frescoed ceiling and feel as if you are in a Neapolitan palace. Bedrooms are modern with the same attention to detail throughout with views over the narrow lanes and rooftops, and terraces overlook the inner courtyard. There is a wine cellar, soon to be available for tasting, and also a boat for hire by guests. Half board is not available but guests can enjoy a superb breakfast in beautiful rooms and the owners have an arrangement with two local restaurants for other meals if required.

---