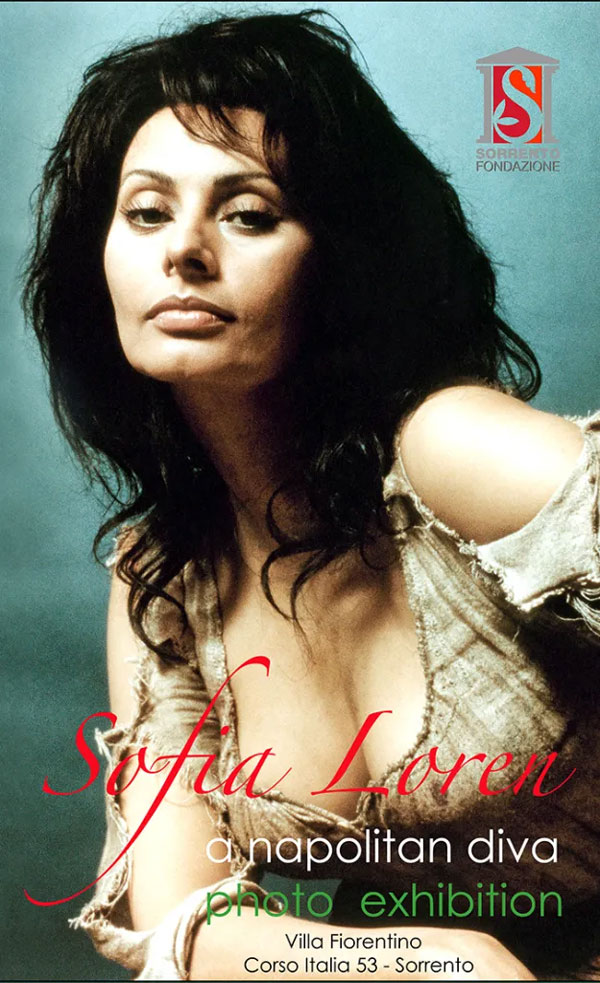 (30 March to 31 December)
Photographic Exhibition of Sofia Loren.
More than seventy photos of the star from the private collection of Raffaele Celentano from Sorrento charts the career of the actress who acquired world fame through the big screen. Photographs from the 50's when she was a young extra to those taken with some of the greatest Italian actors such as Marcello Mastroianni and Vittorio De Sica. Others taken with cinema and music stars including Clark Gable and Elvis Presley show Sofia as an internationally acclaimed actress and personality.
Visitors may recognise some of the location shots in the Sorrento's fishing harbour, Marina Grande, for the famous film "Pane, amore e…", also known as "Scandal in Sorrento". It is a 1955 Italian comedy film directed by Dino Risi, the third film of the trilogy, formed by Bread, Love and Dreams in 1953, Bread, Love and Jealousy in 1954.
Entry fee is 7.00 euros. Opening times 08.00 to 20.00.
Above Photo Credit: (Stills 11993) Sophia Loren in "Man of la Mancha" by Arthur Hiller, 1972
Other exhibitions at the same venue include:
The Italians – Gli Italiani
Thirty years of black and white photos representing Italian people in everyday life.
The Sirens' Cave
Sirens beached and scrambled along the tuff rock walls, symbols of timeless beauty and of the mystery of life.
For further information on these exhibitions visit the official website