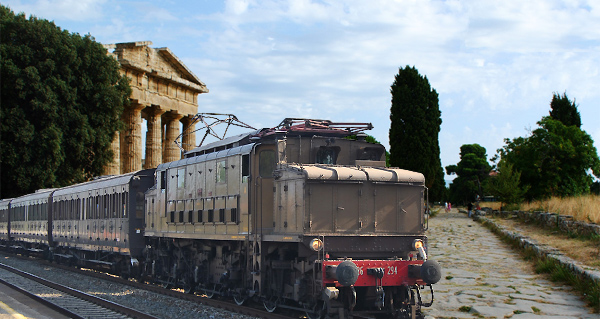 (Once every month)
Travel back in time with this unique opportunity to visit Pompeii and Paestum in a vintage 30's locomotive and carriages. The journey starts from Naples and stops at Pompeii and Paestum with enough time to explore each site. We can arrange private transfers to and from Naples/Pompeii stations to make your 'travel back in time' as comfortable as possible.
It runs once every month throughout the year, the dates and times can be found on the official website together with images of the vintage coach.
Train tickets cost 20 euros for adults and 10 euros for children aged 4-12 years, free for children aged 0-4 years, accompanied by at least one paying adult and no seat guarantee. Tickets for entry to both the Pompeii and Paestum Archaeological Parks cost 15 euros for adults and 7.5 euros for children. There is a guide to purchasing tickets on the website. Other train journeys include Calasetta from Naples.

The National Railway Museum of Pietrarsa
Train enthusiasts may also be interested in The National Railway Museum of Pietrarsa just outside Naples and about an hour by car from Naples. This video gives you an idea of the venue and full details can be found on the Museum website. They also provide a monthly train service from Naples to the Museum in a historic train with vintage carriages.