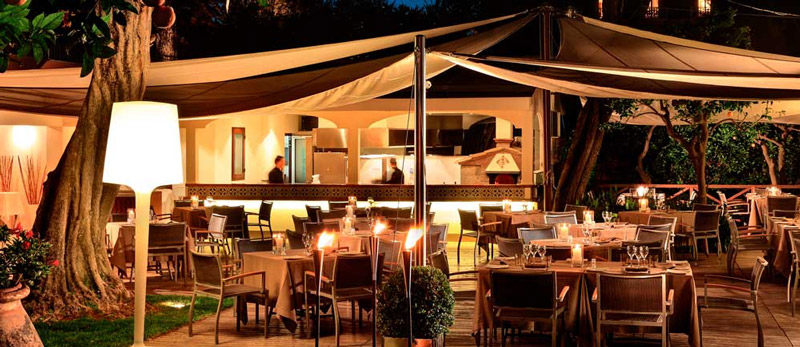 A touch of Magic at the Excelsior Vittoria
Perhaps it's a special occasion or the last night of the vacation and you would like somewhere very special to wine and dine. So consider this recommendation.
On the main square, Piazza Tasso, there is a wisteria covered entrance to the 5* Grand Excelsior Vittoria Hotel with its long pathway tempting visitors with a glimpse of hidden treasure at the end. A treasure under the watchful eye of the gateman.
In the hotel's secluded garden is one of their restaurants, L'Orangerie, where you can eat 'al fresco' throughout the summer in a beautifully natural and chic setting.
Book a table at L'Orangerie for 8.30 – 9.00 pm but arrive around 7 pm to take a stroll down that pathway and discover those treasures. This will lead you down steps to the main entrance and through a lobby perfect for a 1920's romantic novel.
"You can almost hear the charlston music and clink of champagne glasses"
Continue straight ahead to the open terrace. In this timeless setting choose a table, order an aperitif and experience a sunset over the bay of Naples.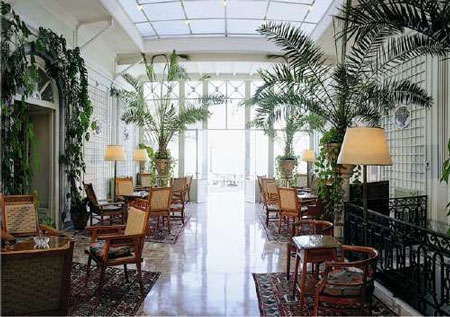 The sun has retired, Naples twinkles under the shadow of Vesuvius and it's already 8.30. Time to make your way to the restaurant. At the top of the steps take the walkway on the left to the pool which leads to L'Orangerie. The pool lighting and Bar sets the atmosphere for something special.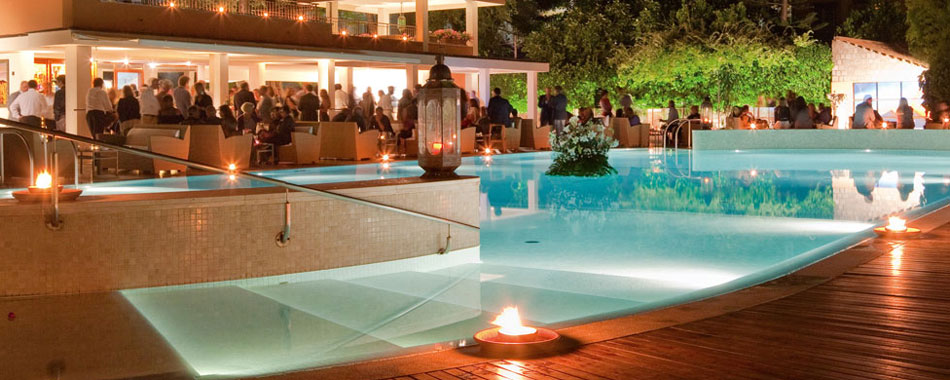 For a 5 star hotel the cuisine and level of service is to be expected but there was one thing that particularly caught my attention, their Orangerie Boule dessert!
If I show or describe it the surprise will be lost. All I can say is to keep looking at your plate as the waiter performs what seems like a touch of magic.
This recommendation offers an opportunity to explore and experience this wonderful hotel as part of a very pleasant evening together. Enjoy its magic.
For more information view L'Orangerie's webpage. While you are on the seafront terrace you can see their Michelin starred gourmet restaurant 'Terrazza Bosquet'. Another time perhaps?