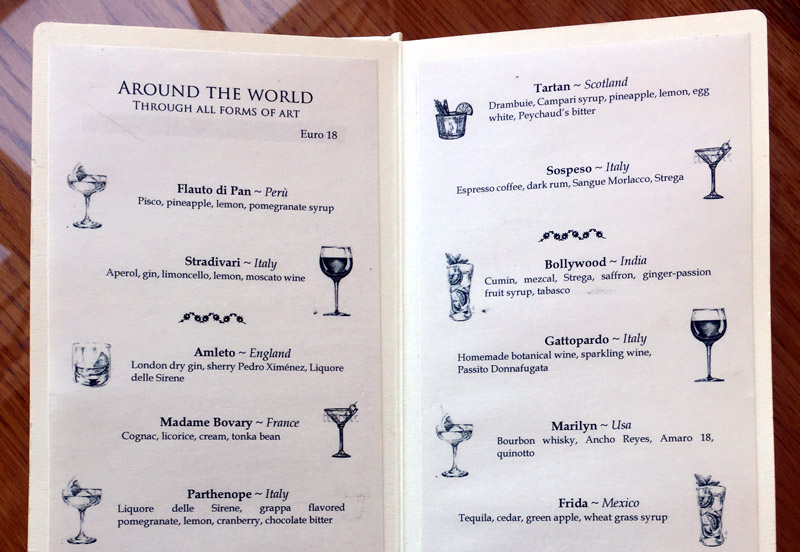 The menu at Bar Vittoria takes a leisurely trip around the world, from Portugal to Germany to Cuba and Japan and eventually back to Italy, with each country inspiring a cocktail. The Madame Bovary from France, the Bollywood from India, the Tartan from Scotland and so forth. The clifftop terrace has stood since 1834 – when the hotel became a favourite stop on the Grand Tour route – and since then the bar has served whiskies to Jack Lemmon, champagne to Marilyn, and pretty much anything a monarch, opera singer or film star might fancy.
On our visit we tried the Flauto di Pan, a take on the Peruvian classic Pisco Sour, delicately flavoured with pineapple and pomegranate. A refreshing aperitif with enough complexity to keep you interested. Then from Italy the Stradivari, a kind of Aperol Spritz/Negroni cross, adding limoncello and moscato wine. And from the US, maybe our favourite, the Marilyn: a boozy after-dinner sipping drink made with bourbon, Ancho Reyes (a chili liqueur which gives a little kick) and Amaro 18 – Italian bitters made with aromatic herbs. There's also a little waiter theatre to enjoy…our Stradivari was poured and topped with prosecco in front of us from a silver trolley, and the ladies at the neighbouring table enjoyed a live martini-mixing.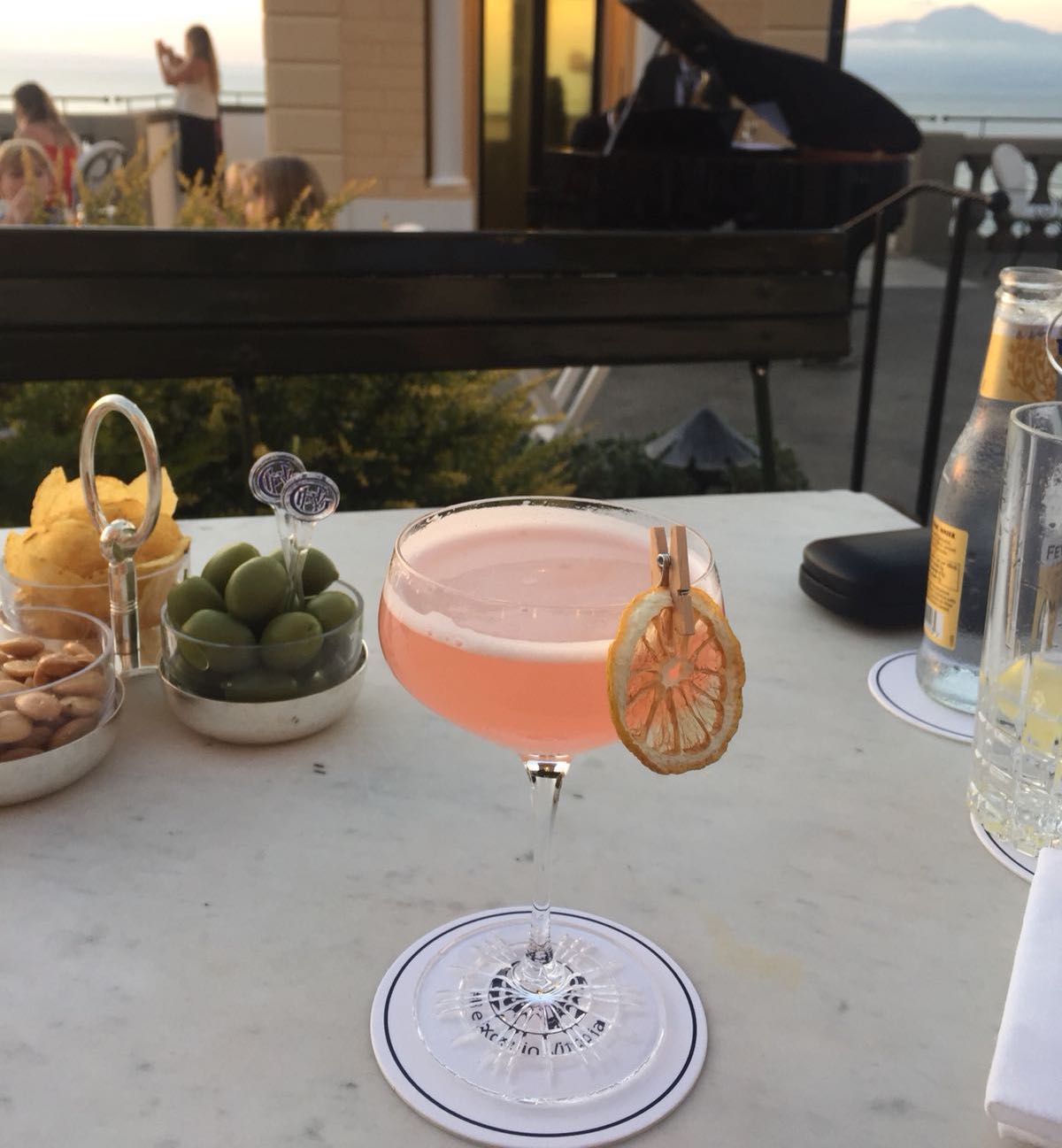 The signature cocktails were created by head barman Gerardo Oliva, whose CV includes the Capri Palace in Anacapri, and the Castello del Nero Hotel & Spa in Tuscany. And there are lots of little menu details that nod to history or culture or local mythology. The Liquore delle Sirene pops up in a few drinks, an Italian liqueur of 23 botanicals including Mediterranean fruit and flowers, Asian sweet spices and bitter roots from the Americas. It's used in their Parthenope cocktail, named after a Siren in Greek mythology. (The Sirenusas are an archipelago of islands between Capri and Positano – the name a reference to the sirens said to have lived there and lured sailors to their doom.)
The prices here aren't for the faint-hearted: the cocktails are 18 euros each. But, remind yourself, this is a once-in-a-lifetime drinks experience. And to soften the blow, they don't skimp on the nibbles. At the very least you can expect a generous trio of crisps, toasted almonds and big sweet green olives (according to a quick internet search, Castelvetrano olives from Siciliy). We were also brought a plate of tasty amuse-bouches – cream cheese and chorizo in shortcrust-pastry boxes, miniature pizzas, and bitesized basil and mozzarella sandwiches.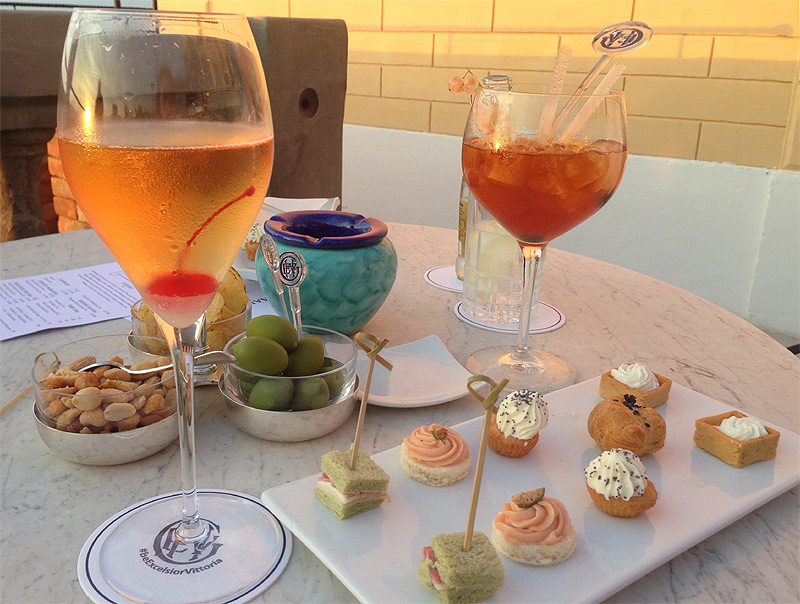 It goes without saying that you can order off-menu – the barman will make any classic cocktail on request. We had a great gin martini the night after too. For me, the only things missing from the menu were a few good craft beers. Granted it might not be their priority (and maybe Campania hasn't been hit by the craft-beer craze like the UK) but it couldn't hurt to add to the omnipresent bottle-of-Peroni.
The bar hosts live music every Friday night, including international jazz artists. On our visit, a quieter Wednesday, there was a pianist on the terrace playing the traditional Italian songbook – Torna a Surriento etc.  I personally find this kind of music a little sentimental, and preferred the modern tracks they had in the background later into the night. (Hearing a contemporary sound in a historical setting can be strangely magical.) That said, some might consider a traditional soundtrack part of the Excelsior experience.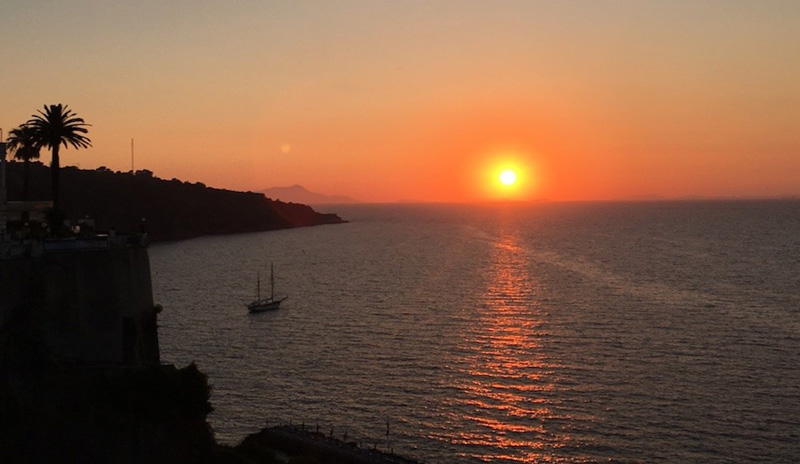 And then of course there's the view. Honestly it's a fight to not spend the whole time reaching for your phone – and I did find myself wishing that people were a little less phone centric – because the sunset is breathtaking. If you're visiting Sorrento but not staying at the Excelsior, you'd do very well to head down to Bar Vittoria (check beforehand what time the sun sets) and see for yourself why it's such a firm favourite.
by Sam Edwards
www