Educational Visits
Friends of Sorrento offers a wide choice of excursion destinations and educational activities to suit a range of curriculum requirements. These could include History, The Classics, Geography, Art, Music, Drama and Sport. Students can also enjoy less formal subject-related activities such as 'treasure hunts', art classes, ice cream and pizza-making demonstrations, and tastings of local produce.
In addition to helping schools plan and book transfers, tours and hotels direct, our customised educational packages with flights are available through ABTA registered travel agents.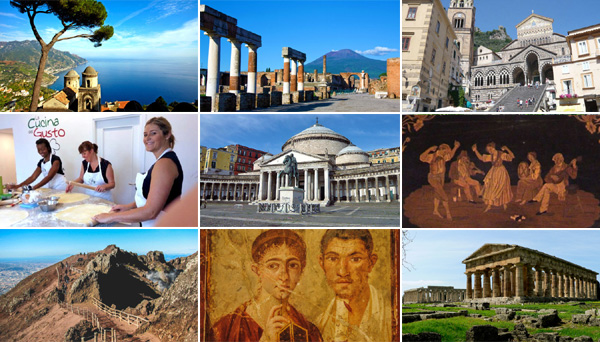 We organise all transport in Italy, hotel accommodation and inspection visits. At the initial planning stage, teachers are provided with full UK based support to produce an itinerary that suits their objectives. In addition to the escort of experienced and authorised guides for every tour, a representative from our Sorrento office is allocated to each visiting group to assist the teachers and answer any queries. We feel this is an important part of our service. Our dedicated support ensures a smooth-running itinerary, leaving the organiser more time to concentrate on achieving the school's objectives and delivering student expectations. The representative will meet the organiser on arrival and be in touch on a daily basis.
Customised Itineraries
We are driven by our customers' requests; unique requirements demand a bespoke service. We would be pleased to provide customised itineraries for your school, based on your particular objectives, core curriculum subjects and pupil experiences.
Our itineraries provide a rich "hands on" learning experience which could never be replicated in the classroom. They will experience life in an ancient Roman town, walk through Greek temples and see the islands of mythical legends, enjoy the regional culture and traditions, travel through diverse and beautiful landscapes including a visit to the world's most famous volcano!
To help maximise the number of pupils visiting and achieve a more economically viable trip, we can tailor separate group excursions to each subject. For example, a visit to Vesuvius and Solfatara for geography, the Naples Opera for music and Pompeii for history.
Our support services include:
* An introductory presentation to teachers and parents at school
* Promotional brochures for parents and pupils View recent example
* Pre-visits for risk assessments
* Personalised school 'hoodies' for ease of identification
* 24 hour support from our Sorrento office throughout the visit
To receive a free customised itinerary proposal based on your specific requirements please complete our enquiry form or phone 01446 771220.
Pre-inspection visits
During the pre-inspection visit, our Sorrento office personnel will be on hand to give full support to the organiser. This professional assistance and knowledge will ensure the necessary information is provided to satisfy the requirements of the school, parents, and LEA risk assessment, safety management systems and guidelines.
Choice of excursions and tours
Pompeii
Herculaneum
Vesuvius and the Observatory
Solfatara/Campi Flegrei volcanic area near Naples
Naples archaeological museum
Capodimonte museum in Naples
San Carlo opera house in Naples
Amalfi
Ravello
Paestum
Salerno
The Royal Palace at Caserta
The Abbey at Cassino
La Mortella gardens on Ischia
Axel Munthe museum on Capri
Tiberius Villa ruins on Capri
Rome
Choice of activities
Venues for orchestra and choir performances
Treasure Hunts with subject related content
Visit to Pasta or Mozzarella cheese making factory
Visit to Limoncello making factory
Ice-cream making demonstration and tasting
Cooking classes (limited numbers)
Organised light lunches in local trattorias
Art sessions in unique settings for sketching or water colour
Basic introduction to the Italian language
Tours of the local countryside
Tour of Sorrento's historic centre and museums
Visit to the Sorrento musical