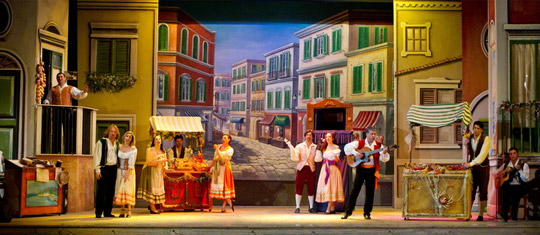 Sorrento Musical
The 75 minute show, at the Armida Theatre in Sorrento, reconstructs the region's cultural roots through song and dance, with several scenery changes to generate a colourful and traditional atmosphere. The show is a pleasant way to spend an evening and offers a light hearted introduction to the region's rich cultural heritage and traditions from the 19th century as opposed to the ancient monuments of Pompeii etc. It also 'brings to life' the many images you will see in the museums and shops depicting life in Sorrento 100 years ago.
The Sorrento Musical is a true reconstruction of everyday situations at work or holiday on the Sorrento peninsula of yesterday. In it, preserving the original significance of the Tarantella has tried to regain the vitality of the precious heritage of genuine family tradition that is expressed in the movements and spirit of the dance.
The show tells the daily life of southern people, representing it in four different scenes.
In the first scene featuring the sea. The view is that of the Gulf of Marina Grande to Punta Scutolo: on this stretch of water, fishermen are getting ready to fish daily, with singing and dancing to lighten their hard work.
Immediately after, the market is shown with the sounds of chatter and gossip, flirtations and quarrels of the intertwined stories of love and jealousy just born with the rhythm and steps of the Tarantella.
Vesuvius silhouetted on the horizon at dusk we entry into the third scene where we can not sing anything but love. The places that have inspired and captivated all cultured travellers of the Grand Tour (from Goethe to Wagner) give off their charm unchanged through songs written in these places.
The last scene of the musical recreates the popular movement of the party. Daylight in the square, while in the sky, you can draw the trails of the fireworks, everyone let grasp the rhythm of dancing and singing their joy of life ready to face the next day, another day of love and work.
Days available
Every day of the week.
Programme
Arrival at 20.00 in the theatre with a welcome drink before the show which ends around 23.00.
Method of payment
After reservations have been confirmed payment can be made by credit card before the visit or in the Sorrento office itself, whichever is the more convenient.
To book a reservation please use our enquiry form or telephone
+44 (0) 1446 771220