Pozzuoli – Its rise and fall
We asked one of our members, Paul Barber, to write an account of his visit to Sofia Loren's home town, Pozzuoli. Other attractions include the Flavian Amphitheater, which is the third largest Roman amphitheater in Italy, and a Piazza that rises and falls with the volcanic activity.
Pozzuoli is very well-known with Italians and is a very important place for its ancient sights and because of the nearby Solfatara volcano, which is very active. Once the traveller arrives in Pozzuoli, they can visit the 'Flavian Amphitheatre', go down to the waterfront for lunch and return up the hill out of town to the Solfatara volcano.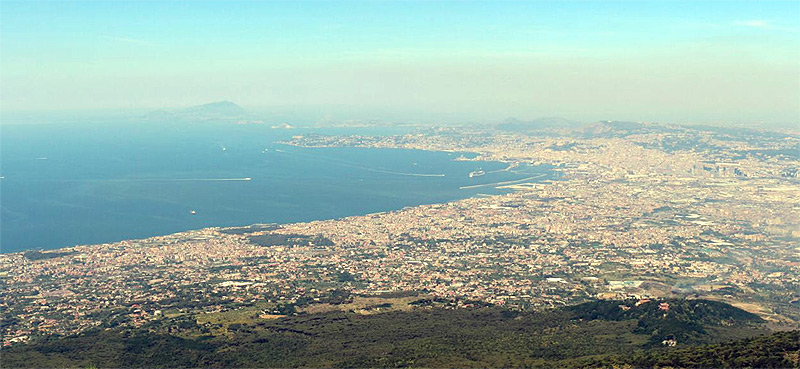 View over Naples towards Pozzuoli from Vesuvius
When visiting Mount Vesuvius our guide told us about the volcano monitoring station situated there and explained that it is linked to another at Solfatara, where ground movement is constantly monitored in case of eruption of the super-volcano there. Pozzuoli is situated in the middle of the Phlegrean Fields of small volcanos and is subject to a phenomena known as Bradyism, in which the whole town slowly rises, sinks and rises again caused by the underlying volcanic activity. The town has risen more than 11 feet in the past 30 years!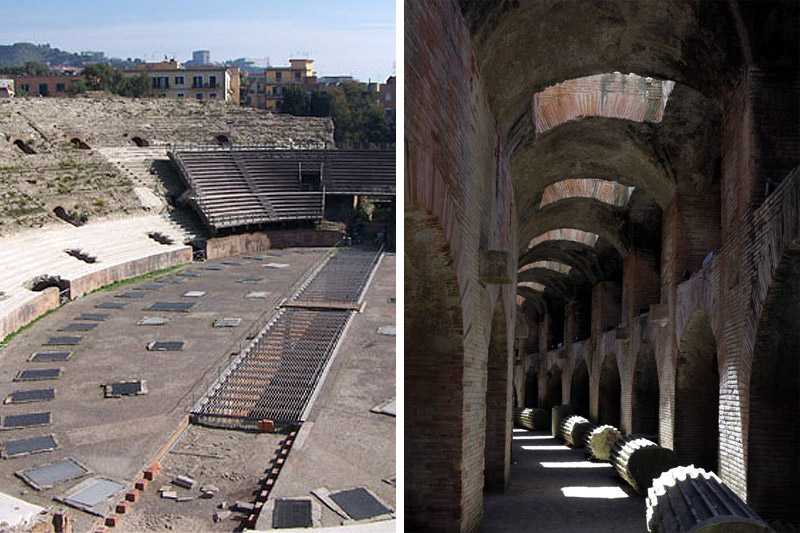 Amphitheatre above and below
The 'Flavian Amphitheatre' is very interesting; built between AD 69-79, the third largest amphitheatre in Italy (with a seating capacity of 20,000 people), it was the site of the martyrdom of Naples' beloved San Gennaro – who's remains are to be found in the Duomo of Naples. The exterior of the building is crumbling a bit, but unlike Rome's Colosseum, the flooring of the Flavian Amphitheatre survives intact. Visitors can wander through the tunnels and chambers beneath, where gladiators and wild beasts once awaited their fate.
Moving down towards the waterfront, in a palm-shaded, sunken park at the centre of town lies the romantically half-flooded 'Temple of Serapide'. This was once the marketplace of the Roman city and is marked by three standing columns and a ring of column stubs surrounding a raised circular dais. The site is not open to the public, but can be seen clearly from the surrounding fence.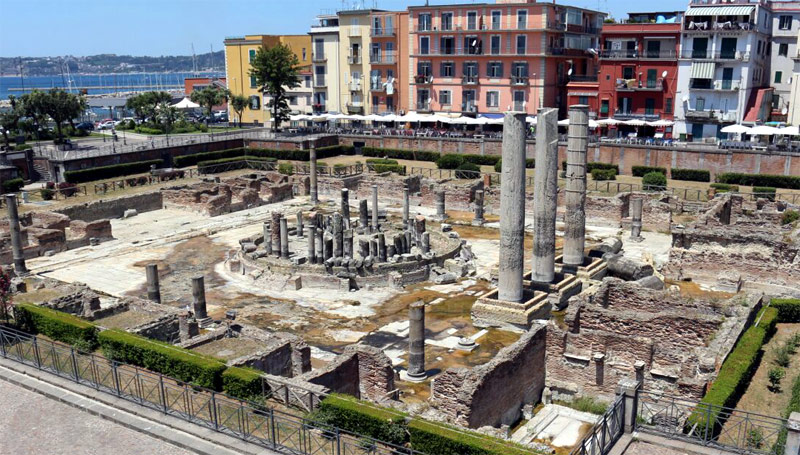 Temple of Serapide with restaurants in the background
Next to the 'Temple of Serapide' is the 'Trattoria il Tempio', where the umbrella shaded tables are set on cobblestones directly overlooking the ancient site. Pozzuoli's seafood was a wonderful experience and this restaurant serves an excellent array of dishes.
A 20-minute walk above Pozzuoli is the elliptical caldera of the 'Solfatara Volcano'. Although it hasn't actually erupted since AD 1198, the parched, alien landscape of bubbling mud pits and fumaroles furiously venting sulphurous steam remind intrepid visitors that molten lava still runs just under the ground surface here. Monitoring of ground movement and sampling of gases keep an eye on what's going on under the surface, together with monitoring on Vesuvius scientists keep an eye out for any sign of increased volcanic activity. This has been a visitor attraction since early Roman times and in its modern incarnation as a tourism site has been going strong since 1900. Guided tours are available to take visitors round the site, which is well worth a visit for those who want to see volcanic activity close-to.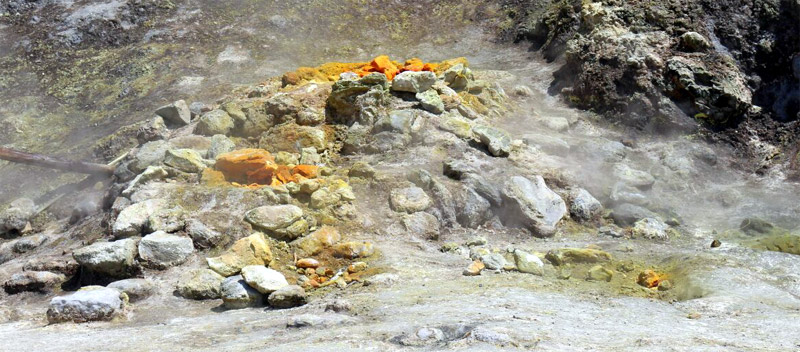 Solfatara fumarole
Other interesting sites nearby that could be visited on a guided tour include the 'Cave of the Cumean Sybil' and 'Lago di Averno' (the gateway to the underworld where Aeneas descended to confront Hades) and trip on a glass-bottomed boat to see the old part of Baia town several metres below sea level (Baia's underwater archeological park).
Paul Barber. June 2017
Editor's notes
Pozzuoli is still relatively quiet in comparison to the region's other attractions and offers visitors a unique opportunity to explore Roman ruins, above and below water, and a volcanic landscape, once thought of as the 'gateway to hell'. Located 20 km west of Naples it takes around 40 minutes by road and 90 minutes by train. Visitor access to these sites and the transport infrastructure continue to be improved and private small group tours are currently available with Friends of Sorrento.
You can find more information about Pozzuoli's attractions on these websites:
Wikipedia
Vulcano Solfatara
Pozzuoli's official website
The copy and photographs of this page are subject to copyright.