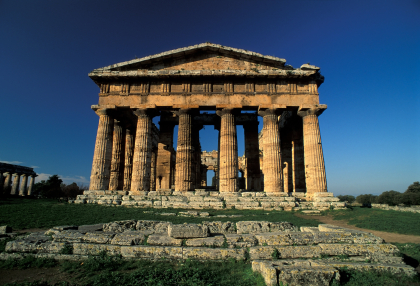 Paestum and Buffalo Farm Itinerary
Pick-up from your hotel or meeting point and depart by bus, drive southwards to the archaeological site of Paestum where you will visit the ancient Greek colony founded in the 7th century BC.
You will admire in the archaeological area the three Doric temples – they are said to be the best-preserved Greek temples in the world. You will also visit Paestum's museum which displays many fascinating artifacts, such as sculptures and tomb paintings discovered during excavations.
After visiting the temples, you will visit a local farm, where the famous buffalo mozzarella cheese is produced, entirely made by hand and exclusively with buffalo milk. Here a guided tour will show you the daily production and the stables where the most avant-garde techniques of milking are used, to safeguard animal welfare, hygiene and milk quality. At the end of the guided tour you will have a taste of this exquisite product!
After the visit, you will have some free time where you are free to purchase lunch from the farm's own bistro or, of course if you prefer, you can bring your own packed lunch. Return to Sorrento late afternoon.
Days available
Tuesday.
Pickup points and times
You will be advised of the most convenient pickup point for your accommodation
Approx 08.00 start and 17.30 return depending on the pickup point
Method of payment
After reservations have been confirmed payment can be made by credit card before the visit or in the Sorrento office itself, whichever is the more convenient.
To book a reservation please use our enquiry form or telephone
+44 (0) 1446 771220>
Approx itinerary times
07:30 Start Hotel Pickups
10:00 Arrive Temples of Paestum for 2 Hours visit
12:30 Arrive Mozzarella Farm for 1 Hour Tour
13:30 Fee time for lunch
15:00 Depart Mozzarella Farm
16:30 Return to Sorrento
Include in tour
• Air-conditioned coach
• English speaking Tour guide
• Whisper Radio Headsets
• Mozzarella Tour and taste of "Bocconcino" – a buffalo mozzarella
Not included
• Entrance fee not included: Paestum / Museum
• Lunch