What we can do for you
Planning a visit to Sorrento and the Amalfi coast should be as enjoyable and relaxing as the holiday itself.
At Friends of Sorrento, we book excursions, private tours, transfers and activities – and recommend hotels – for visitors to the beautiful Sorrento and Amalfi Coast.
When you become a Friend of Sorrento, you enjoy a range of benefits including discounts and special promotions during your stay. For free membership please subscribe here.
> pre-book hotels and excursions before departure, pay in Sorrento
> collect tickets and promotional vouchers on arrival
> contact our information desk at any time throughout your stay
We pride ourselves on a very personal service; our meet-and-greet policy is always appreciated by our customers, as their comments testify.

About Friends of Sorrento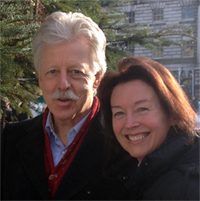 Since 2005 we have been working directly with service providers and hotel owners to help individuals and groups plan and enjoy their visit. Our information desk in Sorrento also provides advice and assistance throughout their stay.
Richard and Janet Edwards
Directors

What our Friends say
"I felt I must send you an e-mail to thank you for arranging the Amalfi Drive tour for us. Our guide, Serena, was perfect and our driver, Nello, was so very kind to my 84-year-old mother. We had a most enjoyable day and hope to return next year."
Kate. United Kingdom. October 2016
"Just wanted to say a big thank you for the excellent trips that you organised for us last week during our stay in Sorrento, both trips were of high standard and all the people we dealt with in Sorrento were very very good.
Once again many thanks and we have already passed on your name to other people."
Kevin. United Kingdom. Sept 2016
"Thank you very much for arranging our excursions. We thoroughly enjoyed all of them, particularly the boat trip along the Amalfi Coast. The pick ups and transfers to and from the ports were efficient and on time, staff were friendly and helpful. This was our first time in Sorrento and I am sure it won't be our last."
Agnes. United Kingdom. May 2016
Thank you for helping us to arrange our bookings in Sorrento. We returned home yesterday after enjoying a lovely holiday. Everything went smoothly and all the trips were fantastic. I wouldn't hesitate in recommending your services and, should we decide to return to the area again, I'll be in touch.
Rod. United Kingdom. Sept 2015
We've just arrived home from a fantastic holiday in Sorrento. Thank you so much to you and your company for making it such a memorable trip. The transfers between Naples airport and our hotel were relaxing and drivers were welcoming and professional; the private tour on our first day was outstanding; the tour of Pompeii was well organised and informative.
Chris. United Kingdom. June 2015
We would recommend 'Friends of Sorrento' to anyone going there, all our trips were booked in advance from the UK by e-mail. We didn't pay until we arrived and the tickets were brought to the hotel and we paid by card with no hidden charges. They were the cheapest prices at the time on the net and undercut all the big tour operators' and gave 10% discount on top of that. The tours were all magnificent and well worth doing.
Clive. United Kingdom. Sept 2014
Many thanks for all the help you gave on our recent visit to Sorrento, everything went to plan and your local colleagues were most helpful and efficient. Also a great big thank you from our daughters for all the help you also gave to them by arranging our surprise anniversary meal at a "special restaurant", a lovely enjoyable dinner in wonderful surroundings. Many, many thanks.
Jim & Lynda. United Kingdom. June 2014
More reviews here.
Take a scroll in Sorrento