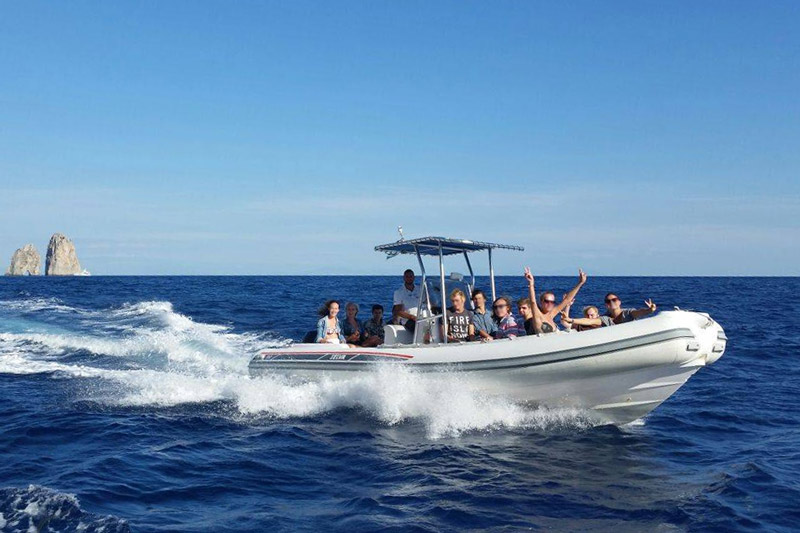 Under 30 – Capri Fun Cruise
01 Mar – 15 May: 75 euros.
16 May – 20 Jul: 79 euros.
21 Jul – 31 Oct: 75 euros.
Skim across the Bay of Naples towards the beautiful island of Capri to discover its many coves and caves then go ashore to explore the cafes and boutiques and other attractions. Cool off with some swimming and snorkelling in the emerald waters.
The boat is limited to 12 passengers and crewed by experienced and professional staff and life jackets are available for everyone. Transfers from central hotels to the port in Piano di Sorrento are included together with refreshments on board.
There is the option to visit the Blue Grotto at 13.00 euros pp to paid on site.
Days available
Every day from 1 March to 31 October
Pickup points and times
You will be advised of the most convenient pickup point and time for your accommodation.
For hotels outside the centre of Sorrento return transfers can be provided at 10 euros pp.
Method of payment
After reservations have been confirmed payment can be made by credit card before the visit or in the Sorrento office itself, whichever is the more convenient.
To book a reservation please use our enquiry form or telephone +44 (0) 1446 771220
Extras paid on site.
Landing tax in Capri € 2.50
Optional Blue Grotto entrance fee € 13.00
Additional Notes
Lunch is not included in the price of this excursion