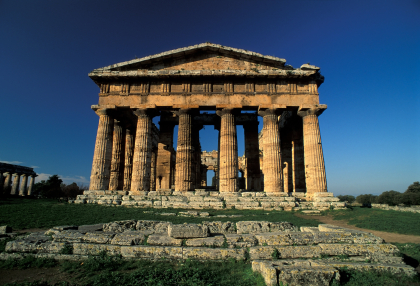 Paestum and Salerno Itinerary
We leave Sorrento for a 50 km drive through the towns forming the Sorrentine peninsula and continue on the State Road 145 "Sorrentina", from where you can admire the scenery before reaching Salerno, the second city in Campania.
Once in Salerno you have the chance to enjoy a pleasant walk along its beautiful seafront as well as the alleys of the old town to take in the relaxing atmosphere and do some shopping.
After the visit of Salerno you continue by coach for about 60 km. to discover the fascinating archaeological site of Paestum, where, after free time for lunch, you will visit the excavations characterized by the three remarkably well conserved Greek temples, known as the Basilica, the Temple of Poseidon and Athena.
Your coach will take you back to Sorrento by late afternoon.
Days available
Tuesday.
Pickup points and times
You will be advised of the most convenient pickup point for your accommodation
Approx 08.00 start and 17.30 return depending on the pickup point
Method of payment
After reservations have been confirmed payment can be made by credit card before the visit or in the Sorrento office itself, whichever is the more convenient.
To book a reservation please use our enquiry form or telephone
+44 (0) 1446 771220
Optional extras paid on site.
Paestum Museum entrance fee € 6.50
Additional Notes
Lunch is not included in the price of this excursion.