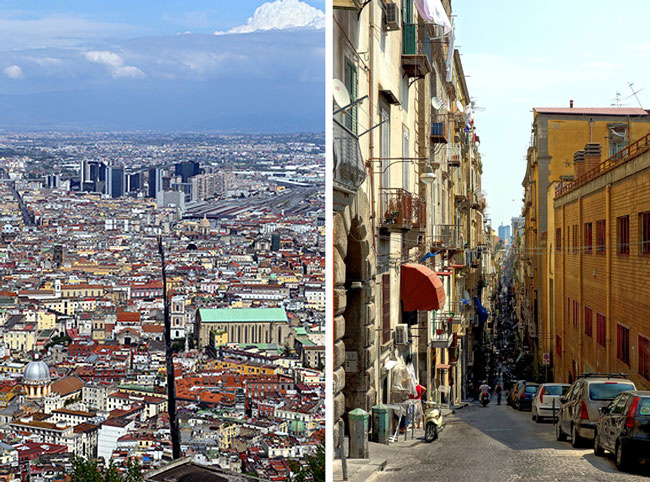 Taste of Naples
Naples is rich in heritage and culinary culture – and this tour combines both to give you a real taste of the city. You'll dip in and out of old town eateries, bakeries and markets sampling Neapolitan delights in edible and edifice formats.
After a drive from Sorrento in the shadow of Mt Vesuvius, you'll arrive in the charming historic centre of Naples. We'll then stroll past the Royal Palace, the church of San Francesco di Paola in Piazza del Plebiscito and towards the lavish Galleria Umberto I as well as Europe's oldest opera house.
Our destination is the loud and proud Pignasecca street market and the narrow Spaccanapoli – the 2km-long alley that bisects the old town – while munching on a 'cuoppo di frittura' during the walk. There's also a stop to see the otherworldly Via Toledo metro station and a chance to try a tasty sfogliatella pastry. On the way back, there's a final tasting at a limoncello factory.
What´s included : Transport, guide, samples of street food, audio tour.
What´s not included: Entrance Fees if applicable.
ITINERARY:
07:30-08:00 – Leave Hotels
09:30 – Arrive in Napoli's historic center to start walking tour – Walk talk and taste the true Napoli.
15:00 – Leave Naples by bus
15:30 – Stop for a limoncello tasting
17:00 – Return to resort
(Times approx. and subject to change)
HIGHLIGHTS:
Full day Naples street food tour
Authentic snacks
Pignasecca street market
Spaccanapoli
Via Toledo Metro station
Price: 75.00 euros per person
Days available
Thursday
Pickup points and times
You will be advised of the most convenient pickup point and time for your accommodation
Method of payment
After reservations have been confirmed payment can be made by credit card before the visit or in the Sorrento office itself, whichever is the more convenient.
To book a reservation please use our enquiry form or telephone
+44 (0) 1446 771220
Optional extras paid on site.
Optional visits (not included):
Santa Chiara cloister 6.00 euros
The Veiled Christ 7.00 euros
Basilica San Lorenzo Maggiore 9.00 euros
Additional Notes
Please note that for visits to some churches it is absolutely forbidden to wear shorts and shorts skirts and you arms and shoulders must be covered.