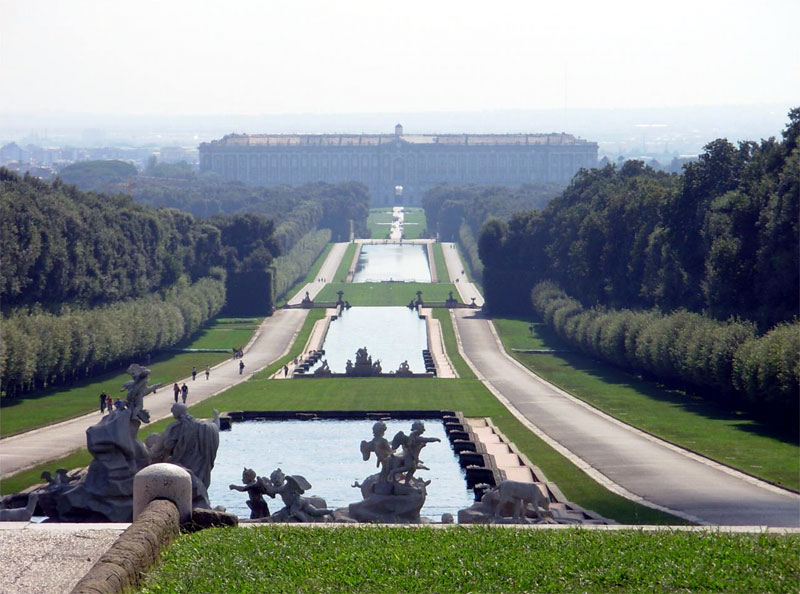 Caserta Itinerary
Surely the most beautiful and interesting place to visit is the famous Royal Palace of Caserta, it is a historic mansion that belonged to the royal family of Bourbon dynasty in Naples. It is surrounded by a vast park in which there are identified two areas : the Italian garden and the English garden. The complex of the royal palace, with its gardens are around 2.5 kilometers long, is one of the largest in Europe. Inside the park of the Royal Palace, local inhabitants, who have free access, they used to go jogging or just bicycle riding in the immense park. On the west side of the palace there is the church of San Francesco di Paola, which is part of a complex once the convent of the Frati Minimi, founded in 1605 by Andrea Matteo Acquaviva, now a military hospital. Pope Benedict XIII in 1727 stopped here and Luigi Vanvitelli is buried here however, is not certain in what part of the church.
Pick-up from your hotel or from meeting point and transfer to Caserta where there will be authorised guided tour of the Royal Apartments and Gardens.
Days available
On request and subject to a minimum number of passengers.
Pickup points and times
You will be advised of the most convenient pickup point and times for your accommodation
Method of payment
By credit card.
Extras paid on site.
Entrance fee to Royal Palace of Caserta at 12.00 euros pp
(For citizens of the European community, from 0 to 17 years, entrance is free of charge, from 18 to 24 years the ticket is reduced of the 50%)
Additional Notes