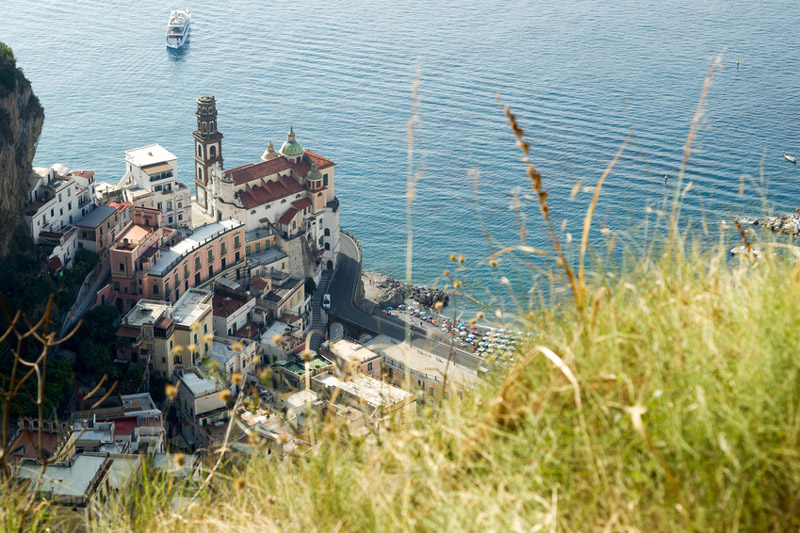 Amalfi Select Tour Itinerary
Our Select Tours are exclusive excursions for a maximum of eighteen people in a luxury minibus (Mercedes or equivalent) which allows greater interaction between our clients and the guide for questions and discussion throughout the day. Also included is lunch in a carefully selected restaurant away from the busier locations where the smaller group can expect a more individual service.
Another benefit is the inclusion of additional sights and locations not normally associated, or indeed possible, with larger group excursions. For example the Amalfi Drive Experience provides the chance to explore Positano as well as time to visit Amalfi and Ravello.
Drive along the scenic Amalfi coastal route as far as Positano where you have some free time to explore this beautiful town. It should be noted that to get down into Positano itself requires a walk along roads and steps that can be steep in places.
The tour continues along the coastal road as far as Amalfi where you have up to two hours free time to explore this beautiful and historic location including its beautiful cathedral.
After Amalfi your energy is restored with lunch, lasting about 40 minutes, at a traditional restaurant in village just outside Ravello, where you will be offered a choice of main course served with local wine and water.
Example menu:
Starter: Caprese salad.
Main course: Choice between two pasta dishes, courgettes or fresh tomato.
Dessert: Home made cake.
Refreshed, you continue to Ravello where you have an hours free time to enjoy its breathtaking views and beautiful buildings including Villa Rufolo.
The return journey takes you back along the coastal route, not available with larger coaches, to give you a second chance to fully appreciate the beauty and colours of this incredible coastline and its islands before arriving back in Sorrento.
Days available
Monday, Thursday or Saturday.
Pickup points and times
You will be advised of the most convenient pickup point for your accommodation
Approx 08.00/08.30 start and return 17.00/17.30
Method of payment
After reservations have been confirmed payment can be made by credit card before the visit or in the Sorrento office itself, whichever is the more convenient.
To book a reservation please use our enquiry form or telephone
+44 (0) 1446 771220.
Optional extras paid on site.
Villa Rufolo in Ravello. Entrance fee € 5.00
Church in Ravello. Entrance fee € 2,00
Church and museums in Amalfi. Entrance fees € 2.00
Boat ride along the coast in Amalfi (if available) € 15.00