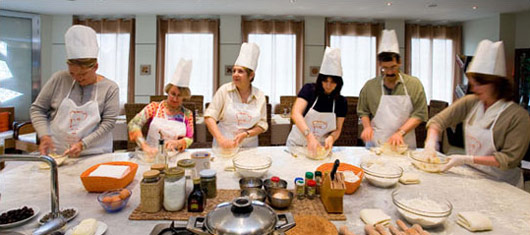 Cooking Class Itinerary
The school runs cooking classes every morning at 10 am from April to October. Lessons are taught in English by our master Chef Rosaria, who is helped by her mother-tongue assistant who translates the lesson simultaneously. We allow a maximum of 14 participants at each lesson. Every day you have the possibility to learn a different menu and you always eat what you have prepared during the lesson. Most of the dishes chosen can be easily made at home and the ingredients can generally be found in your country of origin. They are surprisingly simple to prepare yet are unforgettably flavourful and will have a profound effect on your future dinner guests.
Your programme will give a balanced knowledge to acquire the principal techniques for dressing the plates, making the fresh dough for pasta, pizza and bread, learn about fish, vegetables meat and legumes, ending by creating fresh and delicate pastry.
10.00. The interpreter will provide a brief overview of the lesson explaing the menu of the day and giving each participant a book of recipes, the school's apron and the shopping bag where to put everything at the end (even your doggy bag!).
11.00. First tasting of the appetizer prepared (generally fritters!) with a flute of prosecco wine.
13.00. The lesson has come to the end and finally everybody can seat at the big dining table to eat what has been prepared and enjoy local wine and limoncello liqueur as digestive.
14.00. Return to the Hotel.
During your free time you can ask for different gastronomic activities, which will expand your knowledge on the Neapolitan culinary resources and culture.
Days available
On request.
Pickup points and times
There is a transfer service provided by the Cooking School, if required, with a central pickup point at the Parking Achille Lauro in Sorrento at a cost of € 10,00 pp return
Approx 09.00 start and 14.30 return.
Method of payment
After reservations have been confirmed payment can be made by credit card before the visit or in the Sorrento office itself, whichever is the more convenient.
To book a reservation please use our enquiry form or telephone
+44 (0) 1446 771220


Other food related activities
Country Tour
Half Day Tour. 20 euros
A delightful excursion aboard a characteristic 'train' through the hills of St.Agata to the hamlets of Massa Lubrense. Enjoy the panoramic scenery and the opportunity to taste mozzarella, olive oil, limoncello and other local delicacies.
Available: Every day.
View itinerary
Pompeii and Wine Tasting .
Day Tour. 80.00 euros
A select tour for a maximum of 16 people in a luxury minibus to Pompeii followed by wine tasting on the slopes of Vesuvius. A light lunch in a traditional restaurant is also provided.
Available: Wednesday.
View itinerary