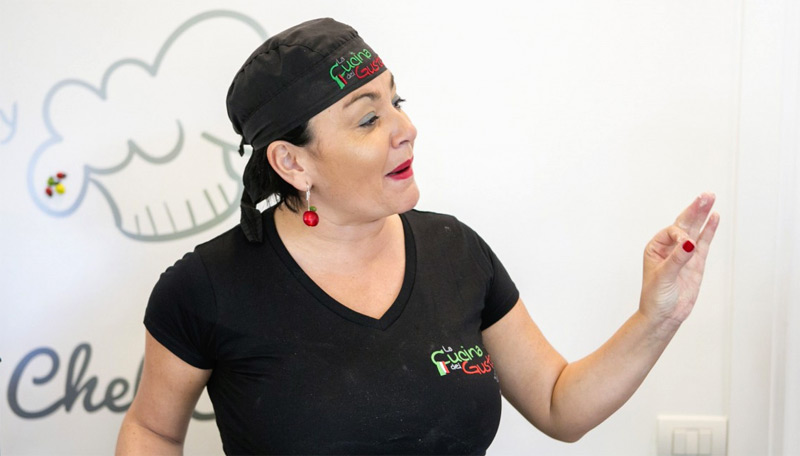 Imagine being able to invite a top Italian chef to help prepare an authentic Neapolitan meal in your kitchen. Dream no longer, because recent developments in live communication technology now makes this possible.
Chef Carmen is one of many talented cooks in Sorrento and runs a very successful Cooking School which was featured in the American Food Network's "Recipe for Success", as one of the most successful cooking vacation in the South of Italy. Her character, humour, patience and boundless energy makes cooking even more enjoyable.
If you have already used the ZOOM app for socialising online then it is as simple as booking a session, selecting the dishes of your choice and stocking up on the required ingredients. A bottle of your favourite Italian wine will also be a useful addition during proceedings. You will need all the ingredients to hand with necessary kitchen tools ready 5 minutes before logging on.
There are 4 live online classes available a week at 18.30 Italian time (17.30 UK) and last 2.5 hours. A minimum number of two participants are required for a class to take place and here's an example of the choice of dishes available for the classes. Check the website for the latest menus.

Monday
Potatoes Gnocchi Sorrento Style
Traditional & Lemon "Tiramisu" Cake
---

Wednesday
Ravioli Caprese
Chicken Roll Genovese Style
---

Friday
Pizza Margherita
Eggplant/Aubergine Parmigiana
---

Sunday
Fettuccine Bolognese
Fish fillett in potatoes crust & Acqua Pazza
---
Unless you wish to keep your new found culinary skills a secret you could organise a private class for family or friends with a minimum of 8 participants. Private classes are available on Tuesday, Thursday and Saturday.
The cost is 30.00 euros per person and full details can be seen on Chef Carmen's website. For those who are not familiar with the Zoom App, here is the website. A good internet connection to your kitchen is essential.
To see Chef Carmen "in action" here is short video on making pasta taking place from the kitchen of her Cooking School in Sorrento. Buon appetito!