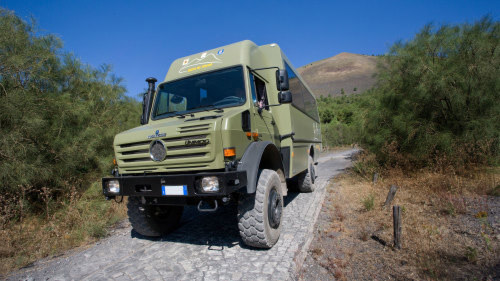 Vesuvius 4X4 tour with lunch & wine tasting
Explore Mount Vesuvius in a 4×4 ecological off-road vehicle which takes up to a point from where a 30 minute walk will take you to the crater's edge. taking in spectacular views across the Gulf of Naples. Then, enjoy lunch and a wine-tasting session at a local Vesuvius winery.
The day starts with a comfortable and scenic one hour drive by coach from central Sorrento to the foot of Vesuvius National Park. You then change over to the all-terrain low-environmental impact vehicle, equipped with 27 seats. As you ascend the side of the volcano, you will enjoy spectacular views over the Bay of Naples towards Sorrento and the island of Capri.
Following the Vesuvius 'Experience' you will taken to the Le Cantine del Vesuvio winery, to learn about the wine-making process and sampling their white, red and rosé wines. Lunch will include bruschetta with local cheese and salami, spaghetti or pasta, and a traditional Neapolitan Pastiera pie followed by a taste of traditional grappa, an alcoholic spirit.
Days available
Mon, Wed, Thurs, Fri, Sat
Cost
85.00 euros pp
Pickup points and times
You will be advised of the most convenient pickup point for your accommodation
Approx 09.00 start and return mid afternoon. Duration 6 hours
Method of payment
After reservations have been confirmed payment can be made by credit card before the visit or in the Sorrento office itself, whichever is the more convenient.
To book a reservation please use our enquiry form or telephone
+44 (0) 1446 771220
Included
Lunch and beverages
Not included
Entrance fee to Vesuvius, 10 euros pp, is not included and is paid on site.
Additional Notes
Comfortable walking shoes recommended.