Sorrento cooking class ingredients
We can organise a single cooking lesson or up to seven lessons depending on your culinary skills together with any transfers that may be required. Here are some of the leading cooking classes available in and around Sorrento suitable for a beginner or the more experienced. Lessons are available from one to several days and provide the expertise to help prepare some of the typical regional dishes of Sorrento and Campania.
If you would like us to check availability and costs for one or more lessons during your visit simply provide the relevant details on our enquiry form. We will send you a number of options for you to consider and details of any special packages that may be available.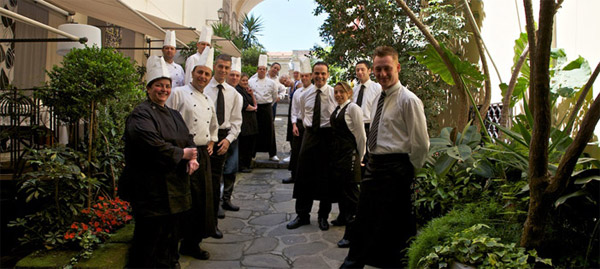 Il Buco
Located in the heart of Sorrento this Michelin starred restaurant offers one, two or five classes. After the cooking comes the tasting of dishes you prepared together with wine tasting of the region and finally coffee. All this takes place in the beautiful surroundings of the infamous Il Buco.
Cost: On request.
---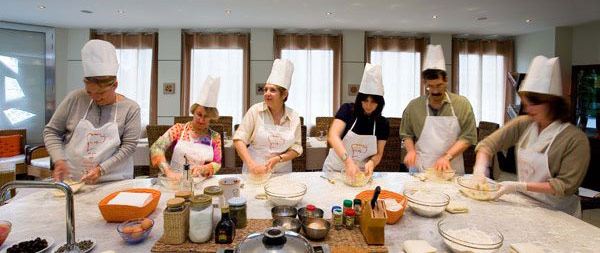 Sorrento Cooking School
The school runs cooking classes every morning at 10 am from April to October. Lessons are taught in English by master Chef Rosaria, who is helped by her mother-tongue assistant who translates the lesson simultaneously. Most of the dishes chosen can be easily made at home and the ingredients can generally be found in your country of origin. The lesson will give a balanced knowledge to acquire the principal techniques for dressing the plates, making the fresh dough for pasta, pizza and bread, learn about fish, vegetables meat and legumes, ending by creating fresh and delicate pastry.
Cost: On request
---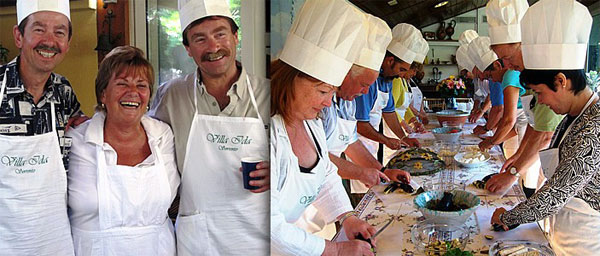 Villa Ida
Cooking classes take place at Villa Ida, a private residence set amidst beautifully manicured gardens, orange and lemon trees, a swimming pool, and a typical 'Pergolato' adorned with beautiful locally crafted ceramic decorations. After a warm welcome and some freshly squeezed orange juice, a slice of delicate lemon flavoured plum-cake and a Neapolitan coffee next to the pool, you move on to the kitchen to begin your cooking lesson.
Although the menus vary according to season, you will begin with an appetizer, continue with a first and second course, and end with a delicious dessert. The recipes will be clearly demonstrated in a relaxed atmosphere by "Zia Angela", who will share with you the secrets of preparing typical local cuisine as she learned from her mother "Ida". Menus are selected that reflect the freshest ingredients of the season, with the vegetables in the menus produced at "Tenuta Mastro Giacomo" by Zia Angela's husband.
The cooking classes include a visit to the family's wine cellar to taste some uniquely handcrafted, homemade wines which will also be served with your lunch.
At the end of the cooking lesson, you will enjoy the fruits of your labour and dine on all that you created, either by the pool or under the "Pergolato".
Classes held in the morning 10.00 to 14.00 or afternoon 16.00 to 20.00.
Cost: 130.00 euros per person.
---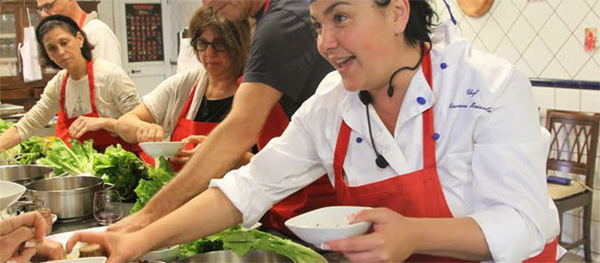 Chef Carmen – Italian Cooking School
Chef Carmen is one of the most talented chief cook of all the Peninsula; she is a trained Master Chef with many years of experience and passion. The school was featured in the American Food Network's "Recipe for Success", as one of the most successful cooking vacation in the South of Italy and is considered to be a leader. The class is hands-on, so you will be doing all the preparation, cooking alongside Chef Carmen in a comfortable and homely atmosphere.
See video
All the dishes are made only with the most genuine and fresh ingredients and we follow typical recipes that have been handed down for many generations. The Class lasts approximately 4 hours and is followed by either lunch or dinner based on the lesson's subject.
Menù will be composed by:
– Appetizer and welcome prosecco cocktail
– Fresh pasta ( gnocchi or ravioli)
– Meat, fish or parmigiana for vegetarian guests
– Dessert
Classes held in the morning 10.00 to 14.00 or afternoon 16.00 to 20.00.
Cost: 80.00 euros per person.
---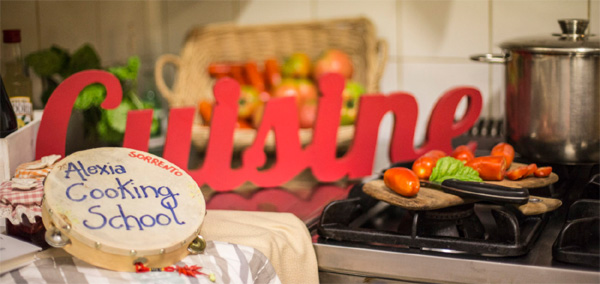 Alexia Cooking School
Alexia Cooking School is based in Schiazzano near Massa Lubrense, and is one of the most ancient villages of the Sorrentine Peninsula and of Italy. Lucia offers her guests the precious chance to taste the original dishes of the Neapolitan tradition, plus the possibility to all its customers to learn methods and secrets about the most famous cuisine in the world. The restaurant is distinguished from others by the truth and flavours of the dishes: Lucia will personally prepares every dish using only the freshest seasonal ingredients and available only in the Schiazzano area – Massa Lubrense. At the end of the lesson will follow lunch or dinner to enjoy everything prepared and more. See video
There is a wide range of menus starting from 100.00 euros per person.
---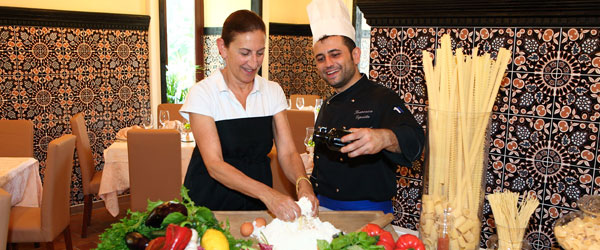 Maison Tofani
Tofani Cookery Vacation is a Cooking school where lessons take place in the unique and well equipped kitchen on the first floor of the Gourmet Restaurant "L'Abate" overlooking the beautiful S. Antonino Square in the centre of town. Qualified chefs will guide you through wonderful hands-on cooking classes and will instruct how to prepare a full menu (three or four courses, depending on preparation).
The Menu is different every day and includes three or four courses: appetizers, first, second and desserts. You can learn to make fresh pasta, to cook gnocchi, ravioli, tagliatelle, paccheri, to prepare typical sauces such as basil tomato, ragù, pesto, meat and local fishing.
After the lesson it is time to relax in the dining room to enjoy the full menu you just prepared complemented by local wines.
Introductory class for beginners Wed to Fri 10.00 to 14.30.
Cost: 90.00 euros per person.
Optional additional Wine lesson at Maison Tofani Wine Boutique for 50 euros where the sommelier will explain the methods of producing wines and food pairing at Maison Tofani Wine Cellar, tasting different wines and cheese.