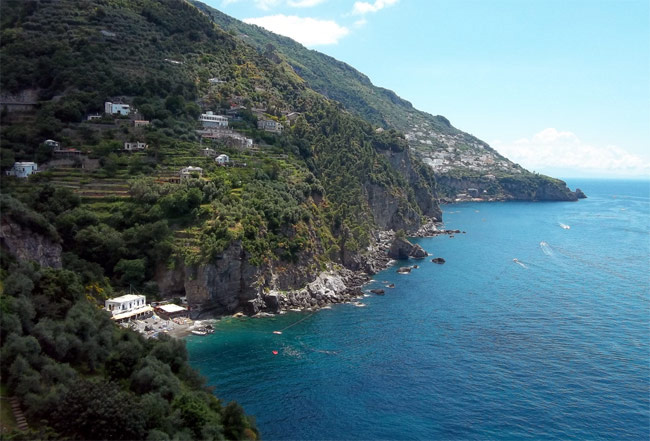 Amalfi – Small group itinerary
A wonderfully relaxing day enjoying the breathtaking scenery along the famous Amalfi coastal road with each bend revealing superb panoramic views and towns and villages perched above the sea. There is a maximum of 8 passengers on this tour.
Although there is no authorised guide to accompany the group during visits to the towns walks, there is a tour escort who will provide information and advice from the coach.
The first stop wil be the famous and romantic Positano where gravity doesn't seem to apply to the multi coloured houses and their swimming pools. There will be about an hour to explore this lovely hillside town, whose colourful buildings cascade down to the sea. Browse shops, walk along the beach or visit the church of Santa Maria Assunta if you wish.
The tours continues along the coastal road passing Priano with its mountainous background and views of Li Galli islands, and in the distance Capri before reaching Conca dei Marini where, weather permitting, you can admire the local pottery. Then onto Amalfi where you will have about an hour and a half free time to explore this historic and beautiful town with its medieval Cathedral, shops and cafes. Take the opportunity to enjoy an ice cream or coffee overlooking the beach and ferry platform with a regular service between Sorrento and other locations should you wish to return for a longer visit.
The journey then continues along the coastal road rising to about 300 metres above the sea to Ravello where you will discover even more spectacular views which have inspired many artists including Richard Wagner. There will be free time to explore some of its attractions, including the Cathedral of St.Pantaleone and the Villa Rufulo. Ravello hosts a music festival every year from April to October with outdoor concerts performed against a background of sea and sky.
Finally the return journey will reach Sorrento late afternoon in time to get ready for an aperitif before dinner and reflect on the day's events. Perhaps even plan a ferry ride to Amalfi or an evening concert in Ravello or…
Days available
Every day
Pickup points and times
You will be advised of the most convenient pickup point for your accommodation
Approx 08.00 start and return late afternoon.
Method of payment
After reservations have been confirmed payment can be made by credit card before the visit or in the Sorrento office itself, whichever is the more convenient.
To book a reservation please use our enquiry form or telephone
+44 (0) 1446 771220
Optional extras paid on site.
Villa Rufolo in Ravello. Entrance fee € 5.00
Church in Ravello. Entrance fee € 2.00
Church and museums in Amalfi. Entrance fees € 2.00
Boat ride along the coast in Amalfi (if available) € 15.00
Additional Notes
Appropriate clothing needs be considered if visiting the Cathedral and churches.