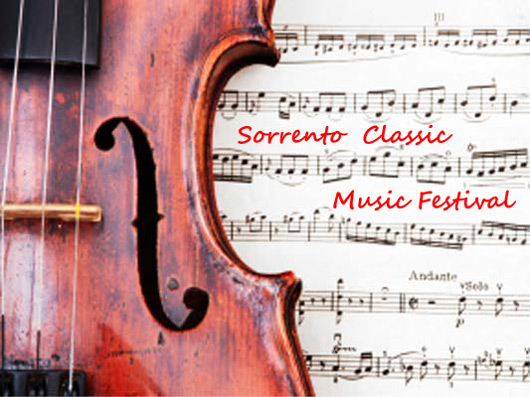 (July 26 to August 5)
The Sorrento Classica International Summer Music Festival and Masterclasses include a number of concerts at the Cloister San Francesco. Check in Sorrento for ticket availability and there is free admission to some events so arrive early for a better chance of finding a seat.
26 July
Pianist MAURIZIO MASTRINI (the only pianist in the world who plays music "on the contrary" and at the highest levels of international concertism) and "NUOVA" MONTENEGRO ORCHESTRA, conducted by Maestro PAOLO SCIBILIA.
The complete album "Essential" (MP&C International Music Recordings) will be performed exceptionally in the version for piano and orchestra;
29 July
AIMAN MUSSAKHAJEVA – violinist ("Sibelius", "Tchaikovsky", "Paganini" Awards – Deutsche Grammophon Records Artist), often alongside the great Vladimir Askhenazy and Mischa Maisky. In duo with pianist SARA ASSABAYEVA will perform "Virtuosity and Belcanto", famous virtuosic pieces by Franck, Saint Saens, De Sarasate, Massenet, Bizet, De Falla;
31 July and 2 August
Masterclasses for cello, clarinet, harp, piano and chamber music, held respectively by the well-known masters Ilie Ionescu and Mariano Lucci (first parts of the S. Carlo Theater in Naples), Lucia Di Sapio (single holder of the Harp Chair of the Music Conservatory "S. Pietro a Majella" of Naples), Rossella Palumbo and Paolo Scibilia (piano teachers MIUR);
Free entry
4 August
at the Church of St. Francis, recital of one of the greatest organists of Eastern Europe, VOLODYMYR KOSHUBA, "Emeritus Artist" of the former Soviet Union, very active concert player and winner of numerous first international prizes. On the program "Great transcriptions and original pieces of romantic literature for organ";
5 August at 22.15 pm
Midnight Candlelight Concert performed by the prestigious" Academy of Soloists, Kazhakistan State Chamber Orchestra, conducted by GUDNI EMILSSON. On the program, classic compositions by Haydn and Mozart.