(Saturday 30 June)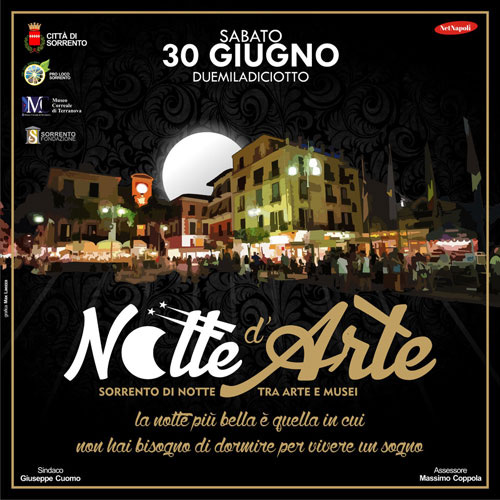 A Night of Art is full of free events taking place in the most picturesque venues of Sorrento and continues until 3 am. Here is the programme of all events from early evening to early morning.
SORRENTO CLASSICA
Church of Our Lady of Sorrows, at 8.00 pm, Chorus Cai
Rosario Church, at 8:30 pm Rossella Parisi
Church of Our Lady of Sorrows, 9:30 pm Valeria Ioviero
FESTIVAL OF STREET ARTISTS
Over 70 street performers from 8.00pm to 3.00pm Entertainment along the streets and in the main squares of Sorrento
EXHIBITIONS
Villa Fiorentino the exhibition dedicated to Francis Bacon will remain open until 3 o'clock
SyART Gallery in Via San Francesco on show Warhol, Haring and Adami
ENTERTAINMENT
Sorrento Comic: At 10:30 pm in Villa Fiorentino Marco Palmieri with the participation of Sex and the South in "Tonight I offer you … you're the only one missing!", Godmother of the evening Rosaria De Cicco
FASHION & ART at the Museo Correale
Museum open and with free admission until late at night
From 7 pm at the Correale Museum vernissage of fashion, culture and entertainment until 2 pm. Presents Patrizia Pellegrino with the participation of Stefano Masciarelli.
Defilè of: La maison Sarli New Land; Maison Impero Couture; Maison Celestino; Jewels of the master goldsmith Gerardo Sacco.
CULTURE
Books under the stars: From 17.00 to 24.00 at Sedil Dominova presentation of a book every hour: 17.00 "Blood Ties"; 6 pm "The streets of the Méhari", 7 pm "The city and its mysteries", at 8 pm "When women talk", at 9 pm "All the colors of black", at 22 pm "Confessions of a Fashion blogger"
GASTRONOMY
Sorrento to taste: A real journey through the typical flavors of the Sorrento peninsula to Bastione Parsano with tastings and free tastings but also selling typical products of Campania.
At 20, 21, 22 and 23 there will be 4 cooking shows by chef Daniele Riccio who will have the gnocco alla sorrentina as protagonist.
At the bar Antonio Antonio Cafiero will offer on the course Italy of lemon ice cream from 2 to 3 at night.
The event is organized by the Municipality of Sorrento with the artistic direction of the DL Events Association and in partnership with the Sorrento Foundation, the Correale Museum and the Pro Loco of Sorrento to create a network of elegant and entertaining events able to enrich with grace the already full Sorrento summer