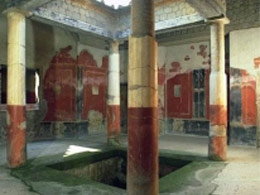 Pompeii, Herculaneum and Villa of the Mysteries
Select Tour Itinerary
Our Select Tours are exclusive excursions for a maximum of sixteen people in a luxury minibus (Mercedes or equivalent) which allows greater interaction between our clients and the guide for questions and discussion throughout the day. Also included is a light lunch in a carefully selected restaurant away from the busier locations where the smaller group can expect a more individual service.
Another benefit is the inclusion of additional sights and locations not normally associated, or indeed possible, with larger group excursions. For example the Pompeii and Herculaneum tour includes a visit to the beautiful Villa of the Mysteries, located outside the main site. A detailed tour itinerary is provided below.

Drive from Sorrento to Herculaneum for a one and a half hour guided tour of this well preserved site including Decumanus Maximus, the main street through Herculaneum reopened to public in April 2011, after 20 years.
After Herculaneum your energy is restored with a light lunch, lasting about 40 minutes, at a traditional restaurant in Pompeii, where you will be offered the following menu served with local wine and water.
Starter: Caprese salad, mozzarella or tomato.
Main course: Choice between Pizza, Pasta with bolognese sauce or Pork escalope with mushroom sauce and French fries.
Dessert: Ice cream.
Revitalised, you continue to the incredible archaeological site of Pompeii for a two hour guided tour including a visit to Villa dei Misteri, a well preserved Roman Villa outside the city walls. It is dedicated to Dionysus, also known as Bacchus, the god of wine.
The return journey to Sorrento gives you a chance to relax in the comfort of the air conditioned coach.
Days available
Sunday
Pickup points and times
You will be advised of the most convenient pickup point for your accommodation
Approx 08.00 start and 17.30 return depending on the pickup point
Method of payment
After reservations have been confirmed payment can be made by credit card before the visit or in the Sorrento office itself, whichever is the more convenient.
To book a reservation please use our enquiry form or telephone
+44 (0) 1446 771220
Extras paid on site.
Pompeii entrance fee € 11.00
Herculaneum entrance fee € 11.00
(Reduced price for EU citizens aged 18 -25, free for under 18 and over 65, on presentation of valid identity documents )
Additional Notes
Comfortable walking shoes, sun hat and bottled water are advised
Other Select excursions
The Amalfi Drive Experience
Select Tour. 108 euros
A select tour for a maximum of 16 people in a luxury minibus which allows greater flexibility in the locations visited, including Positano. A light lunch in a traditional restaurant is also provided.
Available: Mon, Sat.
View itinerary