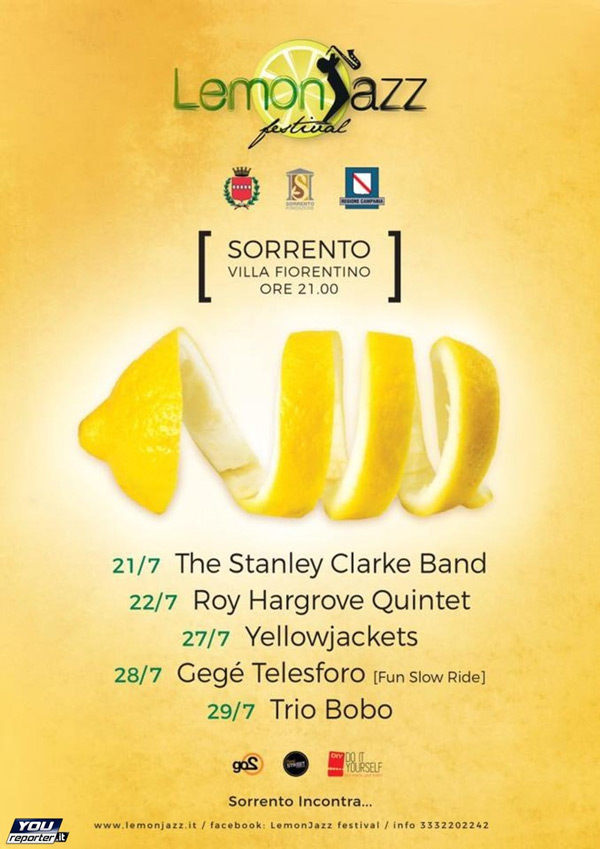 (July 21 to 29)
A week full of zest at Villa Fiorentino with five evenings of jazz.
Sorrento is preparing to celebrate the flavors and colours of its land with an event that has become an appointment awaited by many for the great music and the beautiful location. The LEMON JAZZ FESTIVAL 2018, for its second edition, offers a program as fresh as lemon thanks to the international names that will perform in one of the most suggestive frames of the coastal city, the neoclassical Villa Fiorentino.
It opens on July 21st with the band of STANLEY CLARKE; the American bassist is supported by a highly sought-after group of prodigious musicians who combine their virtuosity with a style that is now historical and inimitable, in which fusion, funk and improvisation merge. Four times winner of the Grammy Awards, Clarke remains one of the most influential and admired musicians from the seventies to today.
Starts 21.00. Tickets
July 22nd sees the quintet of ROY HARGROVE; the Texan trumpeter (also winner of two Grammy Awards) is considered a sort of heir to Miles Davis. His well-tested line up is getting a well-deserved public consensus and excellent feedback from the specialized critic.
Starts 21.00. Tickets
July 27th is the turn of the band of over Atlantic YELLOWJACKETS, historical group active since the early 80 '. The two founding members, Russell Ferrante and Will Kennedy, are joined by the saxophonist Bob Mintzer and the talented Australian bassist Dane Anderson.
Starts 21.00. Tickets
On July 28th GEGÈ TELESFORO will perform and his project Fun Slow Ride. Singer, percussionist, multi-instrumentalist, producer, but also journalist, entertainer, author and radio and television presenter. Gege Telesforo has always been a versatile artist, and above all a refined vocalist.
Starts 21.00. Free admission
It closes July 29 with sonority typically jazz / rock / progressive sonority. With over fifteen years of intense live activity, the TRIO BOBO, has now acquired a very solid interplay. Faso and Christian Meyer, rhythmic bones of Elio and Le Storie Tese, meet guitarist Alessio Menconi.
Starts 21.00. Free admission
In addition to music, also pictorial art and tastings of local products where the taste and beauty of lemon reigns
Waiting for link to be confirmed for full details and tickets.
For some reason a gin and tonic seems a good idea.